Hello and welcome to ExamPundit. Here are the Important Current Affairs Update of 14th September, 2015. These are Important for the upcoming IBPS PO V exam.
Finance
–
RBI Cancels Sahara
India Financial Corp's NBFC registration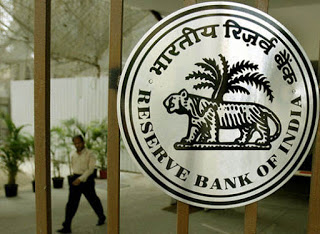 Bringing to closure an over seven-year-old case, Reserve
Bank has cancelled Sahara India Financial Corporation's certificate of
registration as NBFC.
"Following the cancellation of registration
certificate, the above company cannot transact business of a non-banking
financial institution…" the RBI said in a statement today.
The registration of the Lucknow-headquartered NBFC stands
cancelled with effect from September 3, it added.
The NBFC was registered in December 1998.
Earlier, markets regulator Sebi had cancelled mutual fund
and portfolio management licenses of other firms of the group, which is engaged
in a long-running battle with the regulator in a case related to refunds
totalling thousands of crores of rupees. Its chief Subrata Roy is in jail since
March 4, 2014.
Back in September 2008, a group company Sahara India
Investment Corporation Limited had informed the RBI that it has
"voluntarily exited non-banking financial business".
Govt Says 50 Days
Additional Work Under MGNREGA in Drought-Hit Areas
The Centre today decided to provide additional 50 days of
work in drought-hit areas under the MGNREGA scheme to provide relief to farmers
in view of deficit monsoon in various parts of the country.
At present, 100 days of work is provided to rural job card
holders under the Mahatma Gandhi National Rural Employment Guarantee Act
(MGNREGA).
The decision has been taken after monsoon deficit today reached
16 per cent across the country, which could affect kharif crops and rural
income.
Already, Karnataka has declared drought in 27 out of 30
districts, while Maharashtra, Telangana and Andhra Pradesh are also likely to
declare drought-hit areas in their states.
It has also decided to provide assistance for additional
interventions for production of fodder for mitigating adverse impact of drought
on livestock in drought-hit blocks.
That apart, the Centre has made flexible allocation under
the Rashtriya Krishi Vikas Yojana and other centrally sponsored schemes. It has
put in place crop contingency plan for 600 districts.
Mahindra Group enters
e-commerce space, launches M2ALL.com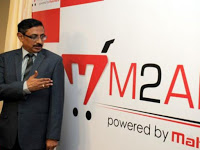 With a large number of its customers going online to buy
goods and services, the $16.9 billion Mahindra Group has finally forayed into
e-commerce space with the launch of its online marketplace M2ALL.com. This
venture will complement its existing sales and distribution network, top
officials have said.
This e-marketplace which was launched on Monday, to begin
with, will offer a range of Mahindra products and services and has already
started taking bookings for the newly-launched Mahindra TUV 300, the compact
sports utility vehicle from the Mahindra stable.
Mahindra e-Market Private Ltd, a 100 per cent subsidiary of
Mahindra & Mahindra Ltd, owns this e-commerce venture which has been
developed under the guidance of Mahindra Group Chief Financial Officer (CFO) VS
Parthasarathy.
Mr Parthasarathy has been named as the Chairman of this
venture and Vijay S. Mahajan heads it. A small team of 10 people are involved
in this project and more are expected to join soon.
India
–
Indian-Australian
Navy Bilateral Maritime Exercise AUSINDEX-15 started
Indian and Australian Navy Bilateral Maritime Exercise
AUSINDEX-15 kicked off the East Coast of India on 11 September 2015. The
nine-day exercise will conclude on 19 September 2015.
The exercise was jointly inaugurated by Rear Admiral
Jonathan Mead, Head Navy Capability Royal Australian Navy (RAN) and Rear
Admiral Ajendra Bahadur Singh, Flag Officer Commanding Eastern Fleet onboard
INS Shivilak at Visakhapatnam.
The maritime exercise seeks to strengthen defence
co-operation between the two countries as envisaged in the Framework for
Security Co-operation announced by the Indian and Australian Indian Prime
Ministers in 2014.
Further, the exercise will also help strengthen professional
interaction, both in harbour and at sea and would be a start for attaining
interoperability between the two navies. It will also strengthen the ability to
undertake regional joint and/or combined operations such as Humanitarian Assistance
and Disaster Relief.
SpiceJet became
first-ever airline to make night landing at Port Blair's Veer Savarkar Airport
Budget carrier SpiceJet on 11 September 2015 became the
first-ever civil airliner to make night landing on Veer Savarkar International
Airport at Port Blair. The successful operation of the flight SG-251 paves the
way for similar flight movements after sunset.
The flight was commanded by Capt. Gurcharan Arora and Capt.
Ranbir Singh and the 212-seater Boeing 737-900ER aircraft VT-SLD was greeted
upon arrival by a grand water cannon salute, an aviation tradition to mark key
milestones.
Later the aircraft departed for Kolkata as SG-261, thereby
completing a cycle of landing and take-off from the Port Blair airport during
the night time.
10th World Hindi
Conference held in Bhopal
The 10th World Hindi Conference was held for three days
between 10 September and 12 September 2015 at the Lal Parade Ground in Bhopal,
Madhya Pradesh.
The conference was inaugurated by Prime Minister Narendra
Modi. It was organised by the Ministry of External Affairs (MEA) in cooperation
with the Government of Madhya Pradesh.
During its three day course, the conference was attended by
noted Hindi scholars from across the country and the world. They deliberated on
16 aspects for universalisation of Hindi language.
List
–
Indian bankers top
Fortune's most powerful women list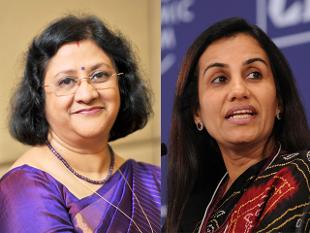 Bankers Chanda Kochhar and Arundhati Bhattacharya have been
ranked as top two in a list of most powerful women in Asia Pacific prepared by
the global magazine Fortune.
Kochhar, 53, who heads the country's largest private sector
lender ICICI Bank has been ranked at the top, up from the second position last
year, the magazine said on its website.
It credited Kochhar with reshaping banking in the country,
and for building ICICI Bank into the "nation's largest and most profitable
private sector lender".
She is followed by Arundhati Bhattacharya, the chairman of
the country's largest lender State Bank of India, whose ranking has also moved
up from the fourth spot she was at last year, the magazine added.
Country's third largest private sector lender Axis Bank's
managing director and chief executive Shikha Sharma comes in at the ninth spot
in the list.
Singapore-based chief executive of International Goldman
Sachs Asset Management, Sheila Patel, has also made it to the list at the 23rd
position.
Appointments
–
Hormusji N Cama
elected as Chairman of Press Trust of India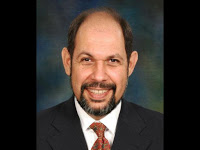 Hormusji N Cama was on 14 September 2015 unanimously elected
as the new chairman of the Press Trust of India (PTI). He is the Managing
Director of Bombay Smachar, which is the oldest continuously-published
newspaper in India from 1855.
A member of the Press Council, Cama succeeded Mohan Gupta,
Chairman and Managing Director of the Jagran Prakashan Limited (JPL).
Cama, currently the Chairman of the Readership Studies
Council of India, has also served as President of the Indian Newspaper Society
(INS). He is also on the Board of Council for Fair Business Practices and Audit
Bureau of Circulations (ABC).
Indian-Origin Man
Becomes Mayor of Germany's Bonn City
Ashok Sridharan, a mayoral candidate of Chancellor Angela
Merkel-led Christian Democratic Union (CDU), has comprehensively won the
election in Bonn, becoming the first person of Indian-origin to occupy the
mayor's office in a major German city.
49-year-old Sridharan secured the absolute majority by
polling 50.06 per cent of the votes in yesterday's election in the former
German capital, according to provisional results.
His victory marks the end of more than 21 years' rule of the
city by the Social Democratic Party (SPD).
Sridharan, who is the son of a migrant from India and a
German mother, will take over the reigns of the city administration from the
outgoing SPD mayor Juergen Nymptsch on October 21.
Sports
–
Novak Djokovic
defeated Roger Federer to win 2015 US Open Men's Singles title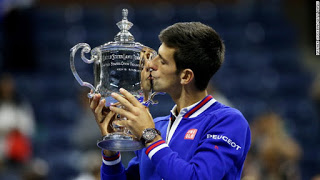 Novak Djokovic on 13 September 2015 won the US Open Men's
Singles title. In the summit clash held at the Arthur Ashe Stadium in New York,
the Serbian defeated Roger Federer 6-4 5-7 6-4 6-4.
For Djokovic, it was a second US Open singles title and a
10th Grand Slam singles title. With this, he tied up himself with Bill Tilden
for seventh place on the career list.
However, Federer, a Swiss player, still remains on top of
the list with 17 Grand Slam singles titles.
Till now, they have played 42 times and Djokovic's recent
victory tied the series 21-21.
Flavia Pennetta won
2015 US Open Women's Singles title
Flavia Pennetta on 12 September 2015 won the US Open Women's
Singles title. She defeated fellow Italian Roberta Vinci 7-6 (7-4) 6-2 in the
summit clash held in New York.
It was her maiden Gran Slam title and after the victory she
announced that she will retire from the professional tennis after the 2015
season.
With this victory, Pennetta became the second Italian woman
to win one of the tennis majors.
She joined the 2010 French Open champion Francesca Schiavone
who had been the lone member in the club.
Days
–
Hindi Divas observed
on 14 September across India
Hindi Divas (Hindi Day) was observed across India on 14
September 2015. The day was observed to promote the Matra Bhasha – the mother
tongue of India and show its importance as a language in the country and the
world at large.
On the occasion of Hindi Divas, the President of India,
Pranab Mukherjee presented Rajbhasa awards in various categories at a function
held at Rashtrapati Bhavan. These awards were instituted by the Rajbhasha
Vibhag, Ministry of Home Affairs to recognize the excellent contribution of
Ministries, Departments and Nationalized Banks and others in the field of
Hindi.
World
–
Mount Aso, the
largest volcano of Japan erupted
The largest volcano of Japan Mount Aso Volcano erupted on 14
September 2015. The eruption blasted a plume of black smoke 2-kilometer high
and the ashes from the volcano fell up to 4-kilometer away.
The volcano situated on main southern island of Kyushu
erupted unexpectedly; however, there have been reports of no causalities or
damage from the volcano's eruption.
The 1592-metre Mount Aso is one of the most active peaks in
Japan but is also a popular hiking spot. It is also the second largest mountain
in Japan and is one of the biggest calderas in the world, encompassing an area
25 kilometers (15.5 miles) north to south and 18 kilometers (11.2 miles) east
to west.
Obituaries
–
Mohiniyattam Exponent
Kalamandalam Satyabhama Passes Away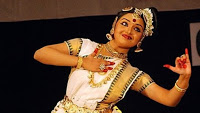 Well-known Mohiniyattam dancer and Padmashree-awardee
choreographer Kalamandalam Satyabhama died at 77.
She passed away at a private hospital here today following a
brief illness, her family sources said.
Known for her experimental reforms in Mohiniyattam,
Satyabhama helped make the traditional art form popular among dance buffs in
the state.
Satuyabhama had joined Kalamandalam, a world renowned art
learning centre in Thrissur district founded by eminent Malayalam poet
Vallathol Narayana Menon, at the age of 12.
She later became the principal of the prestigious
institution and retired from there in 1992.
Meanwhile, Kerala Chief Minister Oommen Chandy expressed
grief at her demise.
Pulitzer
Prize-Winning Playwright Frank D Gilroy Dies at 89
Frank D Gilroy, whose play about a veteran's fraught return
home, The Subject Was Roses, won him a Pulitzer Prize has died in Monroe, New
York.
He was 89. He passed away of natural causes on Saturday, his
family announced through a statement.
Gilroy, who served in the Army from 1943 to 1946 in the
European Theatre, also won a Tony Award for The Subject Was Roses. It premiered
on Broadway in May of 1964. He then wrote a screenplay for a 1968 film
adaptation starring Jack Albertson and Patricia Neal, which would earn both
supporting Oscar nominations and a win for Albertson.
The Bronx native attended Dartmouth and the Yale Drama
School after serving in the Army and went on to work as a screenwriter for live
television and film for years. Credits include shows Studio One in Hollywood,
and Playhouse 90, and films The Gallant Hours, and The Fastest Gun Alive.
Gilroy also directed movies for television and the big
screen, including the 1971 Shirley MacLaine drama Desperate Characters.
Daily Expected Questions on
Stock GK
Satindra Mohan Dev
Stadium is located in which city/state?
– Silchar, Assam
Thang Ta dance is
associated with which Indian state?
– Manipur
Samaleswari Temple is
located which state?
– Odisha
Shree Singaji Thermal
Power Project is located in which state?
– Madhya Pradesh
Who is the Chief
Minister of Karnataka?
– Siddaramaiah


Regards
Team ExamPundit
Sponsored

(adsbygoogle = window.adsbygoogle || []).push({});
Books For 2015 Banking/Insurance Exams


EP Recommends: Practicemock Free Mock Tests