Hello and welcome to ExamPundit. Here are the Important Current Affairs of 14th October, 2015. These are Important for the upcoming IBPS PO Mains and IBPS Clerk Exam 2015.
Finance/RBI
–
RBI data shows bank
credit growth at 9.4%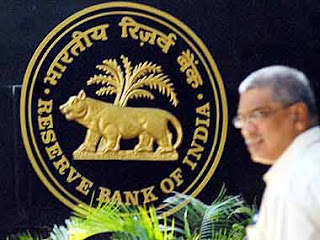 Credit in the banking system continues to grow at a muted
pace. As per the Reserve Bank of India data, credit in the system grew by 9.4%
by October 02, 2015 to Rs 68,30,245 crore from Rs 62,40,256 crore a year ago.
In the same period deposits increased slightly faster at 11%
to Rs 91,63,815 crore.
Even though the festival season has started banks have not
seen a significant improvement in credit offtake. For over a year, credit in
the system has been growing below ten%. RBI has been hopeful that credit off
take will begin to improve by the September-October however the banking system
is yet to see a pick up.
Etihad Airways signed
deal worth 700 million US dollars with IBM
Etihad Airways and IBM on 13 October 2015 announced an
information technology deal worth 700 million US dollars for over 10 years. The
deal aims at improving the airline's operations and security.
The deal incorporates analytics of customer data and the
development of technology that can forecast weather patterns to better manage
the airline's flights at its Abu Dhabi centre.
As per the terms of agreement, about 100 Etihad staff will
move to IBM, where they will help in developing and building a new data centre
in Abu Dhabi.
The deal also includes IBM's mobile solutions, developed under
the Apple-IBM alliance.
India
–
Govt to declassify
Netaji files from January 23: Modi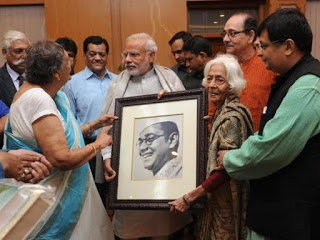 Prime Minister Narendra Modi has announced that the process
of declassification of files relating to Netaji will begin on January 23, 2016,
the birth anniversary of Subhash Chandra Bose.
The Prime Minister, on Wednesday, met the relatives of
Netaji at his official residence in New Delhi. Home Minister Rajnath Singh and
External Affairs Minister Sushma Swaraj were also present.
Later Mr. Modi tweeted that he Will request foreign
governments too to declassify files on Netaji available with them.
"Shall begin this with Russia in December," he
said.
Declaring that "there is no need to strangle history", Mr.
Modi said "Nations that forget their history lack the power to create it."
Lat month, West Bengal government declassified 64 files
related to Netaji, which were in the possession of the Kolkata police and West
Bengal police.
There has prompted demands to Centre from various spheres,
including political leaders and Netaji's kin, to release files pertaining to
the freedom fighter.
Rajasthan government
signed 27 MoUs under Housing for All scheme
Rajasthan government on 13 October 2015 signed 27 MoUs worth
12478 crore rupees under Housing for All scheme in housing, healthcare and
education sectors in the presence of Union Minister for Urban Development
Venkaiah Naidu and state Chief Minister Vasundhara Raje.
With this, Rajasthan became the first state to firm up
private investments in affordable housing.
Out of these 27 MoUs, 14 MoUs were for promoting housing
projects with an investment of 9273 crore rupees. These 14 housing related
investment projects are expected to provide employment to 26650 persons. Total
employment from the 27 MoUs signed today is expected to be 38950.
Tata Housing Development Company Ltd has committed to invest
2000 crore rupees in affordable and mixed use township over an area of 10.12
hectares. While, Mahima Real Estate Private Ltd has signed MoU with the state
government to invest 1700 crore rupees in affordable housing and group housing.
Ministry of Shipping
launched a programme to develop 78 Lighthouses as tourism centers
The Ministry of Shipping along with the Directorate General
of Lighthouses and Lightships (DGLL) on 13 October 2015 launched an ambitious
programme to develop 78 lighthouses in the country as centres of tourism in the
first phase under Public Private Partnership (PPP).
The identified lighthouses are in Gujarat, Maharashtra, Goa,
Karnataka, Kerala, Lakshadweep, Tamil Nadu, Puducherry, Andhra Pradesh, Odisha,
West Bengal and Andaman and Nicobar Islands.
The land adjacent to these lighthouses will have hotels,
resorts, viewing galleries, maritime museums and heritage museums, adventure
sports facilities, thematic restaurants, souvenir shops, LASER shows, spa &
rejuvenation centers, amphitheaters and allied tourism facilities to attract
the tourists.
Delhi government
launched Bill Banvao, Inaam Pao scheme
The Delhi Government on 13 October 2015 launched Bill
Banvao, Inaam Pao scheme to encourage people to receive or demand proper bills
for purchases.
Citizens will be eligible for the scheme only on a bill or
cash memo/retail invoice of not less than 100 rupees for purchases made from a
registered dealer in Delhi. The maximum prize to be given under the scheme is
50000 rupees.
To avail the reward, the purchaser can upload the bill/cash
memo on the website of the Department of Trade and Taxes within seven days of
purchase. A snapshot of the bill can
also be sent to the designated number of the department through Whatsapp. After
the bill is sent to the department, a unique ID will be generated for each bill
and sent to the customer via SMS.
Tamil Nadu Government
banned drug Ketoprofen to save vultures
Tamil Nadu in the second week of October 2015 banned the use
of Ketoprofen, a non-steroid anti-inflammatory drug (NSAID), which is used
extensively for veterinary purposes. The step has been taken to save critically
endangered vultures in the state.
As per the announcement of the state's Directorate of Animal
Husbandry, the use of drug will be discontinued in Erode, Coimbatore and the
Nilgiris, where the vulture population is in danger.
The Tamil Nadu Government had included Ketoprofen based on
an effort to identify an alternative to the banned drug Diclofenac.
Awards
& Honors –
Arun Jaitley chosen
'Finance Minister of the Year, Asia' by Emerging Markets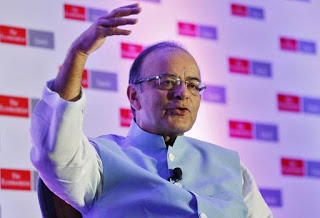 Union Finance Minister Arun Jaitley was chosen as 'Finance
Minister of the Year, Asia' by London-based publication Emerging Markets in
October 2015.
The magazine in an article said that Jaitley too deserves
some recognition for India's relative economic success over the last 18 months.
It says that without his decisions and stewardship of India's financial
direction, India would not have achieved what it has.
Apart from this, Atiur Rahman, the Governor of Bangladesh
Bank was named as the Central Bank Governor of the Year, Asia 2015. He was
awarded for generating considerable strength and resilience in the economy of
Bangladesh.
In 2014, the magazine had named governor of the Reserve Bank
of India, Raghuram Rajan for Central Bank Governor of the Year award for Asia.
In 2010, it also chose Pranab Mukherjee as 'Finance Minister of the Year,
Asia'.
Al-Quds University
conferred Honorary Doctorate on President Pranab Mukherjee
Al-Quds University on 13 October 2015 conferred Honorary
Doctorate on President Pranab Mukherjee at a ceremony held in Ramallah.
On the occasion, the President announced the setting up of
an India-Chair in the Al Quds University.
Jamaican writer
Marlon James won the 2015 Man Booker Prize for Fiction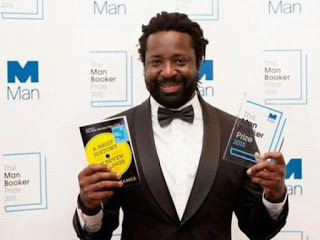 Jamaican writer Marlon James on 13 October 2015 won the 2015
Man Booker Prize for Fiction for his novel A Brief History of Seven Killings.
With this, James became the first Jamaican author to win the prize in its
47-years of history.
James was honoured with the prize money of 50000 Euros, a
trophy and a designer bound edition of his book. He was also awarded with
additional 2500 Euros for being shortlisted for the prize.
James's name was shortlisted from a list of writers
including Sunjeev Sahota, Chigozie Obioma, Hanya Yanagihara, Anne Tyler, Tom
McCarthy and Marlon James.
Appointments
–
Alexander Lukashenko
won Presidential election of Belarus for the 5th time
Alexander Lukashenko on 11 October 2015 won Belarusian
presidential elections with over 83.5 percent of the votes. With this, the
61-year-old, who has governed the former Soviet republic almost unchallenged
for 21 years, will be in power for the fifth time.
His closest rival, Tatiana Karatkevich, won 4.4 percent,
with turnout at 87 percent.
Some 5.1 million out of the nearly 7 million registered
voters cast their ballots in favour of the four terms President. This landslide
victory exceeded Lukashenko's 2010 victory that saw him re-elected with 80% of
the vote.
Twitter names Omid
Kordestani as executive chairman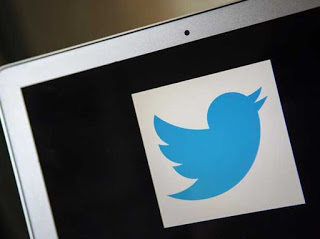 Twitter has appointed Omid Kordestani, a former chief
business officer of Google, as its new executive chairman.
Tha announcement comes a day after the microblogging site
announced laying off 336 people as part of its restructuring efforts.
Kordestani joined Google in 1999, leading worldwide revenue
generation efforts and operations of the sales organisation.
As Google's chief business officer since 2014, he oversaw
all revenue and customer operations, as well as marketing and partnerships.
After Google's reorganisation into Alphabet Inc in August,
Kordestani stepped down to take over the role of advisor at Alphabet.
Sports
–
Shweta Rathore became
first Indian female bodybuilder to win silver in Asian body building championship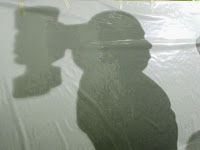 Indian female bodybuilder Shweta Rathore in first week of
October 2015 won a silver medal in the 49th Asian Bodybuilding and Physique
Championship, held in Uzbekistan. With this, she became the first ever Indian
female bodybuilder to win a medal at a continental level tournament.
Shweta, an engineer by qualification, won silver in the
Women's Fitness Physique category and qualified for the World Championship, to
be held in Thailand in November 2015.
Mumbai based Rathore has been the flag-bearer for women's
bodybuilding in India and have participated in several tournaments across the
world. Earlier, she won a bronze medal at the the World Bodybuilding and
Physique fitness Championship.


Regards
Team ExamPundit
Sponsored

(adsbygoogle = window.adsbygoogle || []).push({});
Books For 2015 Banking/Insurance Exams