Hello and welcome to ExamPundit. Here are the important current affairs of 12 April, 2015.
Finance
–
SEBI Moves US Court
With $12 Million Claim on Sahara Jet Sale
In a new twist to the high profile Sebi-Sahara case, the
Indian capital markets regulator has approached a US court with a USD
12-million claim on proceeds from sale of a corporate jet owned by a Sahara
Group firm.
The court has rejected the demand for now, saying that Sebi
could not "properly file a claim prior to the Bar Date and in accordance
with the terms of the Court's order".
The Indianapolis court is looking into disbursement of money
collected from the aircraft sale that was triggered by a litigation. It ruled
however that the court-appointed receiver can initiate wire transfers from the
escrow account to Sebi-Sahara Refund Account after being satisfied with the
validity of the demands.
This bank account was created after a Supreme Court order in
August 2012 for refund to bondholders of two Sahara group firms, which were
asked to submit over Rs 24,000 crore with the Securities and Exchange Board of
India (Sebi) for making repayments to investors.
While Sahara claims to have already made over 95 per cent of
repayments directly, this has been disputed by Sebi and the group chief Subrata
Roy has been in jail for more than a year.
The present case in the US relates to an Airbus Corporate
Jet, a green aircraft purchased by Sahara group's Hospitality Business Limited
(HBL) from Airbus SA in December 2012.
Foreign Fund Inflows
Cross Rs 81K Cr Mark in 2015
With overseas investors pumping in over Rs 2,000 crore in
the Indian capital markets so far this month, total foreign fund inflows have
crossed the Rs 81,000 crore mark since the beginning of the year.
Analysts expect the inflows to accelerate further going
ahead, helped by clearance of reform bills for insurance, coal and mining, as
also on assurances on controversial issues like General Anti Avoidance Rules
(GAAR).
Foreign Portfolio Investors (FPIs) have bought shares worth
Rs 2,392 crore till April 10 this month, while they pulled out Rs 337 crore
from the debt markets, taking their net investment to Rs 2,054 crore (USD 329
million), as per the data compiled by Central Depository Services Ltd.
This has taken their total net investment in the country's
capital markets (equity and debt segments) so far in 2015 to Rs 81,030 crore
(about USD 13 billion).
Market participants attributed the robust inflows to
positive investor sentiment driven by several reform measures announcement by
the government.
Finance Minister Arun Jaitley announced a slew of measures
to attract overseas investment in the country in the his Budget for 2015-16.
Business
–
Xiaomi beats Alibaba's Guinness World Record for maximum
phones sold online in a day
An excited Hugo Barra, Vice-President International for
Xiaomi, also tweeted about the world record they created, saying, "Mi Fan
Festival: Xiaomi broke a Guinness World Record of most phones sold online in 24
hours — 2.11 Million #MiFanFest @GWR".
After Xiaomi ended their exclusive partnership with
Flipkart, they have partnered with other online shopping gaints of India like
Snapdeal and Amazon. The company hosted the 'Mi Fan Fest', which brought in
2.08 billion yuan (USD 335 million) from sales of handsets and other
accessories.
Xiaomi broke the previous record held by Alibaba's Tmall,
which sold 1.89 million handsets on Singles' Day in November 2014 during a
24-hour event. Ironically, Xiaomi was valued at USD 45 billion in a December
2014 funding round that drew investors ranging from Singapore's sovereign
wealth fund to a private capital firm backed by Alibaba Group co-founder Jack
Ma.
Reports say that Xiaomi is aiming to sell 100 million
smartphones by the end of 2015; they sold 61 million phones in 2014 with a
revenue of 74.3 billion yuan, and want to improve their numbers. The company
hit the big figures after their marketing campaign in 2012 and has never looked
back.
There are also reports that Xiaomi will soon launch the Mi
Pad 2 tablet and Android Wear-powered smartwatch. The phone company competed
with seasoned players like Apple and Samsung and climbed the ladder of success
quickly. Forbes Asia named Xiaomi's billionaire CEO Lei Jun its Businessman of
the Year in 2014.
Sports
–
Sania Mirza Becomes
World No.1 in Doubles Tennis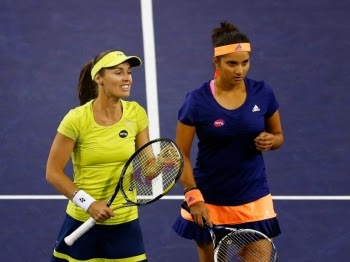 Sania Mirza on Sunday created history by becoming the first
female tennis player from India to achieve the world number one rank in
doubles, following her stupendous title win at the WTA Family Circle Cup with
partner Martina Hingis, here.
The top-seeded Indo-Swiss pair blew away the challenge of
Casey Dellacqua and Darija Jurak 6-0 6-4 in just 57 minutes in the lop-sided
final of the USD 731,000 clay court event.
Sania took 470 points from the win to take her tally to 7965
as she jumped past Italy's Sara Errani (7640) and Roberta Vinci (7640) to sit
atop the ranking table.
The official ranking chart will be issued on Monday.
Before Sania, only Leander Paes and Mahesh Bhuapthi had
achieved the top rank when they dominated men's doubles circuit in the last
90s.
Sania is also first female player from the country to win
Grand Slam tournaments.
It is Sania's third successive title win with Hingis and
they have not lost as a single match since joining forces in March. They won
trophy in Indian Wells, which was their first tournament together and followed
up that with win in Miami.
Sania and Hingis have lost only three sets in 14 matches,
spread over three tournaments.
India beat S. Korea
to clinch bronze in Azlan Shah hockey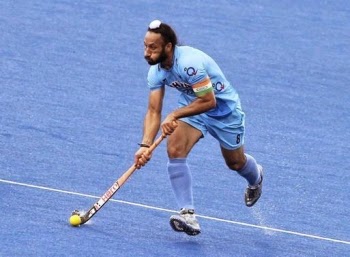 India defeated South Korea 4-1 (6-3) on penalties to win the
bronze medal in the 24th Sultan Azlan Shah Cup hockey tournament here on
Sunday.
The bronze-medal playoff match ended 2-2 after regulation
time at the Azlan Shah Stadium. Goalkeeper P.R. Sreejesh was India's hero
effecting three saves in the penalty shoot-out.
For India, Akashdeep Singh, Sardar Singh, Rupinderpal Singh
and Birender Lakra scored in the shootout.
Striker Nikkin Thimmaiah, scorer of a fine hat-trick against
Australia on Saturday, gave India the lead in the 10th minute.
But attacker Hyosik You converted a penalty corner to level
the scores nine minutes later.
India again surged ahead in the 22nd minute through forward
Satbir Singh in the 22nd minute.
But forward Hyunwoo Nam (28th) equalised again to stretch
the match into penalties.
India stunned reigning world hockey champions Australia 4-2
on Saturday. They lost to lower-ranked Malaysia and New Zealand, while edging
past minnows Canada 5-3 and playing a 2-2 draw against South Korea to qualify
for the bronze-medal play-off.
Shooter Jitu Rai wins
bronze at ISSF World Cup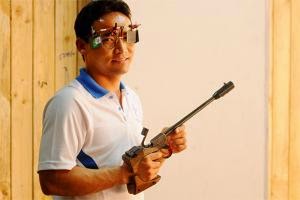 Ace India shooter Jitu Rai fired his way to win a bronze
medal in the 10m air pistol event at the ongoing ISSF World Cup in Changwon,
Korea on Sunday.
Jitu Rai scored 181.1 points in the final, but missed out
for the gold medal shoot-out by 0.4 points.Jin Jongoh of Korea won gold with a
score of 206.0 beating Naung Ye Tun of Myanmar (201.0) in the gold medal
shoot-out.
On Saturday, Apurvi Chandela became only the second Indian
shooter after Jitu Rai to bag a quota for next year's Rio Olympic Games after
winning the 10-metre air rifle bronze in the same tournament.
Apurvi shot a total of 185.6 in the finals, to finish behind
Pejcic Snjezana of Croatia, who won gold, and Ivana Maksimovic of Serbia, who
clinched silver.
Yuki Bhambri wins
Karshi ITF Futures trophy
Yuki Bhambri clinched
the USD 15,000 ITF Futures tournament here on Saturday with a straight-set win
over Dzmitry Zhyrmont and ensured that he will get entry into the French Open
qualifying event.
The 22-year-old Yuki, seeded second, overcame his Belarusian
third seed rival 6-2 6-4 in the final and pocketed 27 ranking points which will
take him to a rank between 215 and 220.
French Open, the Clay Court Grand Slam will begin May 19.
Asked why he chose to play in an ITF Futures event instead
of an ATP Challenger, where there are more ranking points are available, Yuki
said he had to shelve his plan last minute.
It was Yuki's 10th ITF Futures singles title but the Delhi
lad said now it was not easy to win even a Futures trophy.
Lewis Hamilton wins
Chinese Grand Prix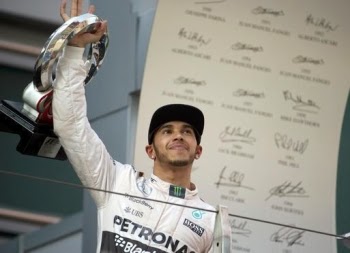 Lewis Hamilton led teammate Nico Rosberg home for a Mercedes
one-two finish in the 2015 Formula 1 Chinese Grand Prix here on Sunday.
With his latest victory, reigning world champion Hamilton
took his second victory of the season and his fourth here. Ferrari's Sebastian
Vettel beat teammate Kimi Raikkonen to the third spot, reports formula1.com.
Force India's Mexican driver Sergio Perez took the 11th
position while the team's other driver German did not finish the race.
The race finished under the safety car, which was deployed
on lap 54 of 56 when Max Verstappen's Toro Rosso came to a smoky halt on the
pit straight with a suspected power unit failure. The Dutch driver was at the
eighth position prior to his retirement.
Hamilton, however, was in full control of the race by
opening up a healthy 10-second lead over Rosberg.
The Williams duo of Felipe Massa and Valtteri Bottas took
the fifth and sixth position, as Romain Grosjean secured seventh to give Lotus
their first points of 2015.
World
–
New Agreement Allows
Indians to Stay in France After Completing Studies
Indian students in France can now extend their stay in this
country beyond completion of their studies as can French students in India.
This is possible under an agreement signed between the two
sides during the visit of Prime Minister Narendra Modi which concluded today.
The two sides agreed on the new scheme to allow Indian
students in France and French students in India to stay for a period of 24
months.
The scheme offers Indian Visa for 12 months renewable once
for a period of 12 months for 250 French students and a 'second residence
permit' of 12 months for the Indian students in France following the 12 months
already granted.
They welcomed in particular agreement between India and
France to facilitate professional experience for their students in both
countries after the completion of their courses.
Under this arrangement, Indian post graduate students shall
be allowed the benefit of a 2 years special residence permit in France and 250
French students would be permitted yearly a maximum stay of 2 years in India
under the VIE Scheme of France to join French companies operating in India.
Three
Indian-Americans Among Biggest Philanthropists of 2015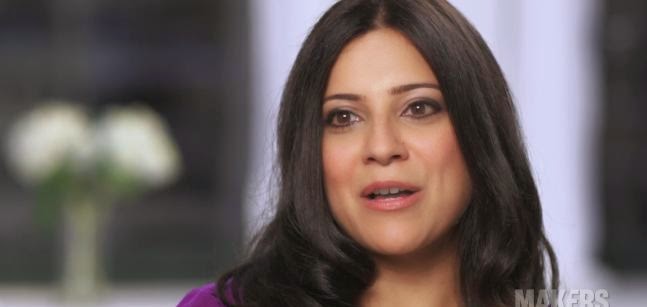 Three Indian-Americans are among 50 biggest philanthropists
of 2015, that includes top business honchos like Microsoft co-founder Bill
Gates, Apple CEO Tim Cook and Facebook CEO Mark Zuckerberg.
The list compiled by American lifestyle Town and Country Magazine
figures New York-based Adarsh Alphons, Reshma Saujani and Shaila Ittycheria,
all under 40 years of age.
Saujani, 39, is the founder of 'Girls Who Code', a three-
year-old nonprofit that teaches computer skills to girls from low-income
communities to close technology's gender-gap.
Meanwhile, 30-year-old Alphons founded 'ProjectArt' to
unleash the creative power in each child and change the way the world views
arts education, because for him, art saves lives.
His 'Grand Plan' is to help troubled New York City students
via ProjectArt, which provides free art classes at public libraries in all five
boroughs.
Expelled from school when he was just seven-years-old for
drawing in every class, Alphons – son of former Indian bureaucrat K J Alphons –
was painting portraits for Mother Teresa, Nelson Mandela and the Pope by the
time he was 15 – all because one art teacher perceived his passion for art and
believed in him, according to information on his website.
Ittycheria, 31, co-founded 'Enstitute' that bypasses college
by placing its students in paid tech apprenticeships.
Her 'Grand Plan' is to educate the digitally inclined and
debt-averse.
The list also includes Zuckerberg's wife Priscilla Chan,
former New York mayor Michael Bloomberg, and actors Leonardo DiCaprio and Emma
Watson.
Regards
Team ExamPundit
Sponsored

(adsbygoogle = window.adsbygoogle || []).push({});
Books For 2015 Banking/Insurance Exams

EP Recommends: Practicemock Free Mock Tests