Hello and welcome to ExamPundit. Here are the Important Current Affairs of 12th and 13th September, 2015. These are important for the upcoming IBPS PO V Exam.
India
–
Google To Provide
Free WiFi Across 400 Indian Railway Stations Under "Project Nilgiri"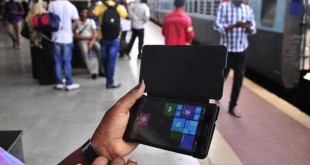 Google and Indian Railways have partnered to launch a new
project under the code name Project Nilgiri that will deliver free Wi-fi access
to around 400 railway stations across India.
Google will be using the Google Fiber project, that'll
provide high speed internet connection for the travellers.
Commuters will be able to access Wi-fi only after mobile
number verification through a one-time password sent over SMS.
Initially, a user will get high speed internet connectivity
for the first 30 minutes and thereafter, the speed will drop and become slow.
The connection of the users will however still be "active".
Google and India Railways will be setting up Wi-fi hotspots
across 400 railway stations through out the nation over a span of 4 months from
now in the first phase.
In its phase 2 expansion, Google plans to provide Wi-fi on
board moving trains Pan India using cutting edge technology.
Union Government
approved the purchase of 10 Heron TP drones from Israel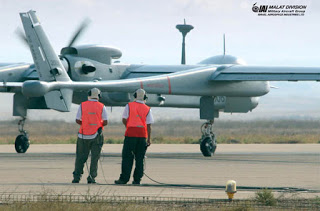 The Union Government on 11 September 2015 approved the
purchase of 10 Heron TP drones from Israel. This 400 million US dollars
proposal for buying armed missile-armed drones from Israel will enhance India's
cross-border military strike capability.
These drones will be operated by the Indian Air Force (IAF),
which has a fleet of reconnaissance drones. IAF also has a fleet of Harpy UAVs
from Israel, which are self-destructing systems primarily tasked with taking
out enemy radar positions.
The armed forces had earlier proposed for buying the same
armed drones in 2012. But that proposal did not get political backing during
the UPA-2 regime. Later, the project was revived and fast tracked by the Modi
government in 2015 beginning.
Appointments
–
Rakesh Sharma
appointed as MD and CEO of Canara Bank
Rakesh Sharma was on 11 September 2015 appointed as Managing
Director (MD) and Chief Executive Officer (CEO) of Bengaluru-headquartered
Canara Bank.
Prior to this appointment, Sharma was the MD and CEO of
Lakshmi Vilas Bank since March 2014, where in a short span of 18 months, he
helped the private sector lender excel in all parameters.
With over three decades of experience in the banking sector,
Sharma's main expertise lies in retail and wholesale banking, corporate credit,
asset liability management, loan syndication, trade finance, industrial
relations and human resources issues.
Prof Kumkum Dhar
appointed as Vice Chancellor of Bhatkhande Music Institute
Noted Kathak danseuse Professor Kumkum Dhar was on 11
September 2015 appointed as Vice Chancellor of Bhatkhande Music Institute, a
deemed university. However, she will
continue to hold the position as Head of the department and dean of the faculty
of dance of Bhatkhande Music Institute.
Dhar succeeded the incumbent Vice Chancellor Prof Shruti
Sadolikar Katkar, who was on extension. Her appointment was approved by
Governor Ram Naik, as the Human Resource Development Ministry of Uttar Pradesh
could not send names for the post.
Awards
& Honors –
G Satheesh Reddy,
Scientific Adviser to Raksha Mantri has been conferred with Silver Medal of Royal
Aeronautical Society (RAeS)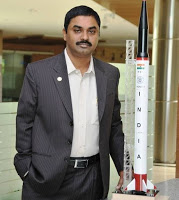 G Satheesh Reddy, Scientific Adviser to Raksha Mantri has
been conferred with Silver Medal of Royal Aeronautical Society (RAeS), London.
According to a press release, he is the first defence
scientist working in India to be honoured with the award by the Society. Reddy
is also Director of the Research Centre Imarat, Hyderabad and a distinguished
scientist with the Defence Research and Development Organisation.
The RAeS is the world's only professional body dedicated to
the entire aerospace community. Established in 1866 to further the art, science
and engineering of aeronautics, the Society has been at the forefront of
aerospace.
It has been honouring outstanding achievers in the global
aerospace industry since 1909, when Wilbur and Orville Wright came to London to
receive the Society's first Gold Medal.
Sports
–
Leander Paes, Martina
Hingis won US Open Mixed Doubles Title 2015
Leander Paes and Swiss Martina Hingis on 11 September 2015
won the US Open Mixed Doubles Title 2015. This fourth seeded Indo-Swiss pair
defeated unseeded Americans Bethanie Mattek-Sands and Sam Querrey 6-4, 3-6,
10-7 in a tricky final which lasted for one hour and seventeen minutes.
The pair fired 32 winners and staved off four of five break
points during the 77-minute affair. This is 17th Grand Slam crown for Paes.
With this victory, they became the first team since 1969 to
win three Grand Slam mixed doubles titles in the same season at the US Open.
They defeated Daniel Nestor and Kristina Mladenovic in the Australian Open
final 2015 and beat Alexander Peya and Timea Babos in the Wimbledon title match
2015 itself.
Sania and Hingis Win
US Open Doubles Title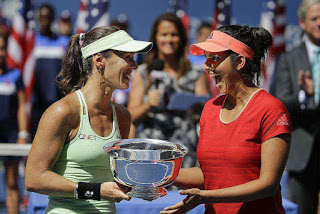 Sania Mirza and Martina Hingis continued their domination in
the women's doubles by winning the US Open crown, their second Grand Slam of
the season, after a crushing victory over Casey Dellacqua and Yaroslava
Shvedova, here today.
It took the top seeds only 70 minutes to wrap up the final
6-3 6-3 against the fourth seed Kazakh-Australian combination at Flushing
Meadows.
Sania's win capped off a memorable US Open for Indians as
Leander Paes had won the mixed doubles trophy with Hingis yesterday, in a
repeat show of the Wimbledon.
Sania's ground-strokes from the back of the court and
Hingis' agility at the net was too good for their rivals.
It was Sania and Hingis' second Major title in a row, having
won the Wimbledon championships earlier this season.
Days
–
Las Vegas Declares
September 10 as 'Anupam Kher Day'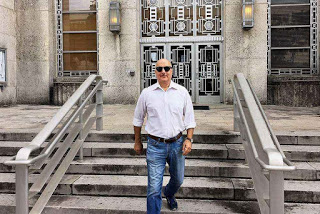 Bollywood actor Anupam Kher has been awarded for his
commendable contribution to cinema and art globally in Naveda with the US
state's most populous city Las Vegas declaring September 10 as 'Anupam Kher
Day'.
Kher was presented with the 'Certificate of Excellence'
Thursday in Las Vegas by Nevada Senator Ruben Kihuen who praised the
60-year-old veteran actor for providing quality entertainment.
"Thank you for bringing such an extraordinary
performance to Las Vegas and various other cities around USA. It has been an
honor to meet and watch the cinematic genius live on stage," Ruben, who
declared 10th September as Anupam Kher Day, said.
Kher has been honoured with various awards and recognition
for his contribution to cinema and art following a resounding success of the
repeat show of his play Mera Matlab Woh Nahin Tha here and back-to-back shows
in 20 other US cities and in Canada.
Daily
Expected Questions on Stock GK:
1. Bhawnendra Singh
Deo Power Plant is located in which state?
– Chhatisgarh
2. Dachigam National
Park is located in which state?
– Jammu & Kashmir
3. Amarkantak Thermal
Power Station is located in which state?
– Madhya Pradesh
4. Ranibennur
Blackbuck Sanctuary is located in which state?
– Karnataka
5. Birsa Munda
Athletics Stadium is located in which city/state?
– Ranchi, Jharkhand
6. K. D. Singh Babu
Stadium is located in which city/state?
– Lucknow, Uttar Pradesh
7. What is the
official currency of Algeria?
– Algerian Dinar
8. Jyoti Prasad
Rajkhowa is the governor of which Indian state/UT?
– Arunachal Pradesh
9. Who is the chief
minister of Uttarakhand?
– Harish Chandra Singh Rawat
10. Which of the
following city is the capital and largest city of Indian state Sikkim?
– Gangtok


Regards
Team ExamPundit
Sponsored

(adsbygoogle = window.adsbygoogle || []).push({});
Books For 2015 Banking/Insurance Exams


EP Recommends: Practicemock Free Mock Tests