Hello and welcome to ExamPundit. Here are the Important Current Affairs of 12th, 13th and 14th December, 2015. These are Important for the upcoming IBPS Clerk Mains and LIC AAO as well as Other Insurance Exams.
Finance/Industry
–
Justice Narasimha
Reddy to head committee on OROP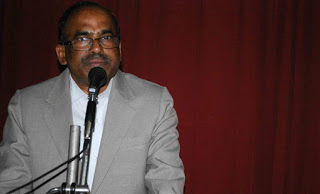 Sidestepping the demand by ex-servicemen for a five-member
judicial commission with representatives from military fraternity, the
government on Monday appointed Justice L. Narasimha Reddy, former Chief Justice
of Patna High Court to head the one-man judicial committee, which will look
into the implementation of One Rank One Pension (OROP) scheme.
The committee is as per the points of the notification
issued by the government on November 7 for implementing OROP. A statement
issued by the Defence Ministry states that the terms of reference for the
committee shall be "to examine and make recommendations on references received
from the government…"
These include: measures for the removal of anomalies that
may arise in the implementation of the OROP as notified by the government on 07
November 2015, measures for the removal of anomalies that may arise out of
inter-services issues of the three forces due to its implementation,
implications on service matters and any other matter referred by the Central
Government on implementation of the OROP or related issues.
The committee, based in Delhi, will submit its
recommendations within six months of the date of its constitution, however, it
can give interim reports to the government on matters related to its terms of reference.
Infosys invests USD 3
mn in sports startup WHOOP
IT major Infosys has invested USD 3 million in U.S.-based
wearable device startup firm WHOOP to pick up a minority shareholding in the
company.
In a regulatory filing, Infosys said it "has made an
investment of USD 3 million (about Rs 20 crore) in WHOOP, an early stage
company offering performance optimisation system for elite professional sports
teams."
Infosys said with through this transaction it will acquire
"minority shareholding, not exceeding 20 per cent of the outstanding
shareholding of the company."
Infosys said WHOOP's system includes a device worn by
athletes on their wrist that continuously measures key strain and recovery
variables and actionable analytics powered by proprietary algorithms that
generate intensity and recovery scores.
Rajasthan first state
to submit smart city plan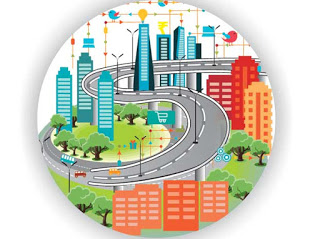 Rajasthan has become the first state to submit smart city
plan to the Urban Development Ministry.
Manjit Singh, Principal Secretary (urban development) of
Rajasthan submitted smart city proposals of three cities – Udaipur, Kota and
Ajmer – to Urban Development Additional Secretary Samir Sharma at Nirman Bhawan
here today.
Urban Development Secretary Madhusudhan Prasad complimented
Rajasthan government for being the first state to submit smart city proposals.
Investment outlays proposed for developing these three
cities as smart cities are Kota – Rs 1,493 crore, Ajmer – Rs 1,300 crore and
Udaipur – Rs 1,221 crore.
India
–
India and Japan
exchanged 16 documents; Reached Agreement on Civil Nuclear Energy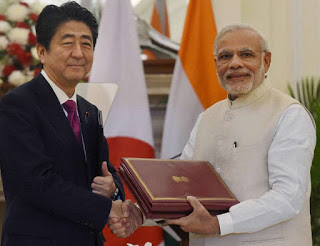 India and Japan on 12 December 2015 exchanged 16 bilateral
documents including agreement on civil nuclear energy cooperation. The documents
were exchanged in New Delhi during the state visit of Prime Minister of Japan
to India.
Besides, both the sides issued Joint Statement on India and
Japan Vision 2025: Special Strategic and Global Partnership Working Together
for Peace and Prosperity of the Indo-Pacific Region and the World.
Following is the
list of documents exchanged:
Agreement on Civil Nuclear Cooperation: Memorandum
concerning the Agreement on Cooperation in the Peaceful Uses of Nuclear Energy
Memorandum of Cooperation (MoC) on High Speed Railways:
Between Mumbai and Ahmedabad with financial and technical assistance from Japan
Agreement concerning transfer of Defence Equipment and
Technology Cooperation
Agreement concerning security measures for the protection of
classified military information
Agreement on Amendment Protocol of Double Taxation Avoidance
Agreement
MoC between Ministry of Railways and MLIT on Technological
Cooperation in Rail Sector
MoU on technological cooperation between Research Designs
and Standards Organization (RDSO) and Japan Railway Technical Research
Institute (JRTRI)
Letter of Intent on the Strategic International Cooperative
Program between Department of Science and Technology of India and the Japan
Science and Technology Agency
Letter of Intent toward establishing a young researcher's
exchange program between the DST, India and the Japan Society for the promotion
of Science
MoC on Medical Products Regulation Dialogue and Cooperation
Framework
MoC in the field of Education
Statement of Intent between NITI Aayog and Institute of
Energy Economics, Japan (IEEJ)
MoU on cooperation between State Government of Andhra
Pradesh and Toyama Prefecture
MoU between State Government of Kerala and Lake Nakaumi,
Lake Shinji & Mt. Daisen area Mayors Association
MoU between Indian Institute of Management, Ahmedabad (IIMA)
and National Graduate Institute for Policy Studies (GRIPS)
MoC in the field of forests and forestry
India and Japan inked
three agreements for cooperation in Railway Sector
India and Japan on 12 December 2015 signed a Memorandum of
Understanding (MoU) on cooperation and assistance in the Mumbai – Ahmedabad
High Speed Rail Project (Bullet Train project).
Both the countries on 11 December 2015 also entered into two
comprehensive technological cooperation agreements for modernization and
upgradation of Indian Railways.
MoU on cooperation
and assistance in the Mumbai – Ahmedabad HSR Project
Japan offered an assistance of over 79000 crore rupees for
the project.
The loan is for a period of 50 years with a moratorium of 15
years, at an interest rate of 0.1 percent.
The project is a 508 Kilometer railway line costing a total
of 97636 crore rupees.
The project will be implemented in a period of seven years.
Shinkansen Technology will be adopted for the project.
The cooperation of Japan will be fixed on transfer of
technology and Make in India.
Japan will assist India in training of personnel for HSR.
Memorandum of
Cooperation (MoC) between Ministry of Railways and MLIT, Japan on technological
cooperation
Any other areas jointly determined by both Sides within the
scope of this MoC
MoU on technological
cooperation between RDSO and Railway Technical Research Institute Japan
The main directions of cooperation between the parties will
be the development of rail-related technical cooperation in which the parties
may have mutual interest, performance of consultation and other services.
Government of India
signed MoU to establish three IIITs on PPP mode
The Union Government on 12 December 2015 signed Memorandum
of Understanding (MoU) and documentation for establishing three Indian
Institute of Information Technology (IIITs) at Ranchi, Nagpur and Pune.
These IIITs are operated on a Public-Private-Partnership
(PPP) mode with participation of State Government and Industry, apart from the
Union Government.
The IIITs are expected to bring out high quality IT manpower
required for building up IT industry in India.
The agreement was signed between Vinay Sheel Oberoi,
Secretary, Department of Higher Education from the Union Government side and
Tata Consultancy Services, Tata Motors.
Losar, the biggest
Tibetan Buddhist Festival, began in Ladakh region
Losar, the biggest Tibetan Buddhist Festival began on 12
December 2015 in Ladakh region of Jammu and Kashmir. The festival marks the
beginning of New Year for Buddhists.
The annual festival is celebrated by people of the area with
traditional and religion fervor. The festival begins with illumination of
religious and residential places.
Buddhists of Ladakh celebrate Losar as their new year.
Before the rule of Jamiang Namgyal (1555 to 1610) this day was celebrated on
the first day of Ladakhi Buddhist Year which is based in the moon and sun
(quite similar to Hindus).
National Commission
for Safai Karamcharis recommended to make it a Permanent and Statutory Body
National Commission for Safai Karamcharis presented its
Annual Report 2014-15 to the Union Minister for Social Justice and Empowerment
Thawar Chand Gehlot on 11 December 2015.
In its Annual Report, the Commission has made following
important recommendations:
Make the Commission a permanent and statutory body with
powers of Civil Court to lend it more credibility
The Contract system should be abolished and ensure payment
of minimum wages for Safai Karamcharis
Death victims among Safai Karamcharis should be compensated
with a minimum 10 lakh rupees as has already been ordered by the Supreme Court
UNESCO designated
Varanasi and Jaipur as members of Creative Cities Network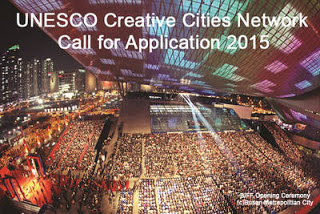 Two Indian cities, Varanasi and Jaipur, on 11 December 2015
have made it to the Creative City Network of the United Nations Educational,
Scientific and Cultural Organization (UNESCO) for the first time ever.
Varanasi and Jaipur made it to the network in the
categories, City of Music and City of Crafts and Folk Art respectively.
UNESCO Director-General, Irina Bokova, announced the
designation of 47 cities from 33 countries as new members of the UNESCO
Creative Cities Network.
India had applied for the first time to UNESCO in these
categories in 2015.
Varanasi was advocated as a perfect example of India's
intangible cultural heritage as a combination of a temple city with its rich tradition
in music.
The Government of Rajasthan nominated Jaipur under the
Creative Cities Network for its art and craft.
Sports
–
Mascot and Logo of
2016 South Asian Games unveiled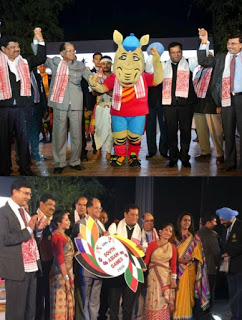 Orgnaising committee of 12th South Asian Games (OC-SAG) on
13 December 2014 unveiled mascot of the games and logo at ITA Cultural Center
Machkhowa in Guwahati, Assam.
The mascot Tikhor is a one horned rhino and is the brand
ambassador of the games carries the message of peace, stability, amity and
progress in the South Asian region. On the other hand, the logo has eight
petals representing the countries participating in the mega event.
The mega event will be jointly held in Guwahati and Shillong
from 6 February to 16 February 2016.
Japan's Nozomi
Okuhara, Kento Momota won singles titles at World Dubai Superseries Finals
Japanese shuttlers Kento Momota and Nozomi Okuhara on 13
December 2015 won Men's singles and Women's singles title respectively at the BWF
World Superseries finals held at the Hamdan Sports Complex, Dubai.
Okuhara defeated China's Wang Yihan by 22-20, 21-18 to grab
the women's singles crown. Not much later, Momota crushed Denmark's Viktor
Axelsen by 21-15, 21-12 and clinched the Men's singles title.
Vijay Kumar won gold
in the 59th National shooting championship
Vijay Kumar on 13 December 2015 won the centre fire pistol
gold in the 59th National shooting championship at the Dr Karni Singh Range in
Tughlakabad in New Delhi. The 15 day event began on 1 December 2015.
To win the gold, Vijay Kumar scored 588 points to pip
Gurpreet Singh by two points. Vijay Kumar won the silver medal in the 25m rapid
fire pistol event in 2012 Olympics held in London.
Elizabeth Susan Koshy
clinched gold in 59th National Shooting Championships
Kerala's Elizabeth Susan Koshy on 11 December 2015 won the
Women's 50m Rifle 3 Positions Gold at the 59th National Shooting Championships
held at the Dr Karni Singh Shooting range in New Delhi.
Haryana's Anjum Moudgil won the silver medal and Gaayathri N
of Tamil Nadu fetched the bronze in the championship.
On the other hand, Commonwealth Games gold medalist
Tejaswini Sawant along with veteran Anjali Bhagwat and Priyal Keni won the team
gold for Maharashtra in the event, in which the Railways won silver and Haryana
won bronze.
Indian cyclist Deborah
Herold became World No. 4 Cyclist
Indian cyclist Deborah Herold on 11 December 2015 became the
first Indian female cyclist to be ranked fourth in the World Elite Women
Ranking for the 500m time trial event. The ranking was issued by cycling world
body International Cycling Union (UCI).
Besides, the Indian team also improved its world ranking to
13th. India is the highest ranking Asian country in 500m time trial. China
fetched the 15th spot in the ranking.
Indexes
–
Quick Estimates of
IIP and Use-Based Index for October 2015 released
Quick Estimates of Index of Industrial Production (IIP) and
Use-Based Index with the base year 2004-05 for the month of October 2015 were
released on 11 December 2015. It was released by Central Statistics Office
(CSO) of the Union Ministry of Statistics and Programme Implementation.
Main highlights of Index of Industrial Production (IIP)
IIP for October 2015 stood at 181.3, which is 9.8% higher as
compared to the level in October 2014. In September 2015 (month-on-month), IIP
growth rate stood at 3.6 percent.
The cumulative growth for the period April-October 2015-16
over the corresponding period of the 2014-15 stood at 4.8%.
The IIP for the Mining, Manufacturing and Electricity
sectors for October 2015 stood at 130.0, 188.1 and 201.6 respectively, with the
corresponding growth rates of 4.7%, 10.6% and 9.0% as compared to October 2014.
India ranks 130th on
Human Development Index in 2014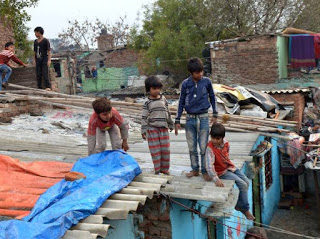 India's ranking on Human Development Index (HDI) rose by a
notch in 2014 — to 130th from 131st a year earlier — according to the 2015
edition of the Global Human Development report, released by the United Nations
Development Programme (UNDP) on Monday. From 2009 to 2014, the country moved
six positions up in the HDI ranking.
With a score of 0.609 on HDI, India stands well below the
average score of 0.630 for countries in the medium human development group. But
it is marginally above the South Asian countries' average score of 0.607.
According to the latest ranking, India stands higher than neighbours Bangladesh
and Pakistan but lower than countries like Namibia, Guatemala and Tajikistan,
even Iraq. Norway tops the HDI ranking, followed by Australia, Switzerland and
Denmark. The latest ranking is based on data from 188 countries.
The Human Development Index is based on assessing progress
on three dimensions of human development. First, a long and healthy life
measured through life expectancy of the population. Second, access to knowledge
measured by mean years of education among the adult population, and access to
learning and knowledge measured by expected years of schooling for children of
school-entry age. And last, standard of living measured by the country's
per-capita gross national income (GNI).
Awards
& Honors –
Legendary actor Dilip
Kumar conferred with Padma Vibhushan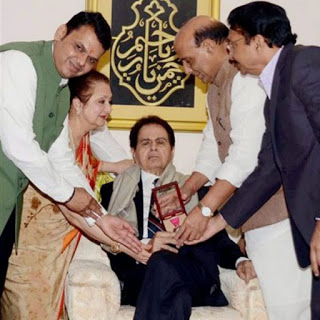 Dilip Kumar, Indian cinema's one of the greatest actors, was
conferred with the Padma Vibhushan, the second-highest civilian honour, on 13
December 2015.
The 93-year-old actor received the award from Home Minister
Rajnath Singh at his residence in Mumbai.
The Padma Vibhushan award for Dilip Kumar was announced on
the Republic Day of 2015 for his exceptional and distinguished service.
However, the acting legend could not attend the special function held in
Rashtrapati Bhavan in April 2015 due to his ill health.
Indian-origin writer
J M Sali won 2015 South East Asian Write Award for Singapore
Indian-origin Tamil writer Jamaludeen Mohamed Sali on 11
December 2015 was declared as the winner of the prestigious South East Asian
Write Award for Singapore.
Sali will receive the award for literary excellence on 14
December 2015 at a ceremony in Bangkok.
Wipro won 2015 Aegis
Graham Bell Award for innovation in IoT
Global software giant Wipro on 11 December 2015 announced
that it won the 2015 Aegis Graham Bell Award for developing a solution for the
Internet of Things (IoT).
Wipro's IoT solution, Universal Data Parser (UDP), fetched
the prestigious award.
The Aegis School of Business established the Aegis Graham
Bell Awards as a tribute to the father of the telephony, Sir Alexander Graham
Bell.
World
–
Myanmar launched its
first UNESCO Biosphere Reserve Inle Lake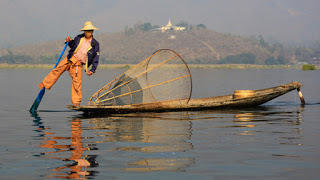 Myanmar on 11 December 2015 launched its first UNSECO
Biosphere Reserve Inle Lake in Shan state. The Inle Lake was designated as
UNESCO Biosphere reserve in Paris in June 2015.
With this, Myanmar fulfilled its commitment to bio-diversity
and eco-system conservation under the UNESCO's Man and Biosphere Prorgamme.
The inscription of Inle Lake as one of the world natural
heritage sites by the UN Educational, Scientific and Cultural Organisation
(UNESCO) came after that of Myanmar's three Pyu ancient cities in June 2014.
Alibaba agreed to buy
112-year old newspaper South China Morning Post of Hong Kong
Alibaba Group Holding Ltd on 11 December 2015 announced that
it has agreed to buy the 112-year old English newspaper South China Morning
Post (SCMP) for an undisclosed amount.
The agreement includes acquisition of SCMP Group's other
media assets, such as licenses to the Hong Kong editions of Esquire, Elle,
Cosmopolitan and Harper's Bazaar.
The acquisition of the Hong Kong's flagship English-language
newspaper is the most politically sensitive acquisition by the e-commerce giant
to date.
Appointments
–
Mumbai Police
Commissioner Ahmad Javed appointed as Ambassador to Saudi Arabia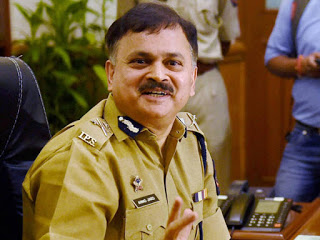 Ministry of External Affairs (MEA) on 11 December 2015
appointed Mumbai Police Commissioner Ahmad Javed as the Ambassador to Saudi
Arabia. He is expected to take up his assignment shortly.
His appointment to the post will fill the vacancy which was
lying vacant since retirement of Hamid Ali Rao in April 2015.
Javed, a 1980-batch IPS officer from Maharashtra Cadre, is
scheduled to retire on 31 January 2016.
With this, Javed became the 20th Ambassador to Saudi Arabia.
He is also the fourth IPS officer to be appointed as an Ambassador, which is
generally is a domain of Indian Forest Service officers.
Obituaries
–
Renowned
agro-economist and farmer's leader Sharad Joshi died
Renowned economist, agriculturist, prolific journalist and
stalwart farmer leader Sharad Joshi passed away on 12 December 2015 in Pune. He
was 80.
Joshi is survived by his daughters Shreya Sahane and Gauri
Joshi.
He was also the Founder Leader of Kisan Coordination
Committee (KCC) composed of sister organisations from 14 states.
He was also a founder of the largest organisation of rural
women, Shetkari Mahila Aghadi (SMA), known for its work for women's property
rights.


Regards
Team ExamPundit
Sponsored

(adsbygoogle = window.adsbygoogle || []).push({});
Books For 2015 Banking/Insurance Exams


EP Recommends: Practicemock Free Mock Tests