Hello and welcome to ExamPundit. Here are the Important Current Affairs of 11th April, 2015 including the 17 agreements between India and France.
PM
Visit to France, Canada & Germany –
India, France Sign 17
Agreements During PM Modi's Visit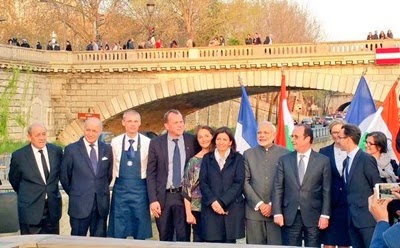 India and France today signed 17 agreements, including on
the stalled nuclear project in Jaitapur in Maharashtra, after Prime
Minister Narendra Modi held
wide-ranging talks with French President Francois Hollande.
An MoU was signed between Larsen and Tubro and AREVA aimed at cost reduction by
increasing localisation, to improve the financial viability of the Jaitapur project.
The agreement will also enable transfer of technology and
development of indigenous nuclear energy industry in India.
Pre-engineering agreements were inked between NPCIL and Areva which intend to bring clarity on all technical aspects of the
plant so that all parties (AREVA, Alstom and NPCIL) can firm up their price and
optimise all provisions for risks still included at this stage in the costs of
the project.
After the two leaders held extensive talks, MoU was also
signed between Indian Space Research Organisation (ISRO) and French National Centre for Space Studies (CNES) on the Indo–French Megha Tropiques satellite which was launched on board
the Indian launch vehicle PSLV on October 12, 2011.
The MoU shall extend by two more years, the joint project
for sharing and use of data from the satellite.
Under space cooperation, an agreement was also signed
between ISRO and CNES. The agreement proposes cooperation in the areas of
satellite remote sensing, satellite communications and satellite meteorology
among others.
An MoU on cooperation between the Ministry of Youth Affairs
and Sports and French Ministry of Sports, Youth Affairs, Public Education and
Community Life was also signed that envisages cooperation and exchange of
experiences in the fields of sports medicine and institutional cooperation.
The two countries also signed agreements increasing
bilateral cooperation in the economic sector.
An MoU on cooperation in the field of renewable energy
between the Ministry of New and Renewable Energy (MNRE) and France's Ministry
of Ecology, Sustainable Development and Energy was signed that will help
establish the basis for cooperation and relationship to encourage and promote
technical bilateral cooperation on new and renewable energy issues on the basis
of mutual benefits and reciprocity.
A Railway protocol between Indian Ministry of Railways and
French National Railways (SNCF) was also inked, seeking to establish
cooperation between Indian and French Railways for semi-high speed rail and station renovation.
Other agreements signed were in the fields of energy,
culture, tourism, conservation, Ayurveda, skill development and science and technology.
Economy/Finance
–
RBI cautions against
use of 'balance enquiry app'
The Reserve Bank of India has cautioned members of the
public that an app (application) with the title 'All Bank Balance Enquiry No',
which purportedly facilitates checking of balance in customers' bank accounts,
has not been developed by it.
Members of the public are, therefore, advised to use the
application, if at all, at their own risk, the central bank said in a
statement.
RBI said an app (application) with its logo and the title
'All Bank Balance Enquiry No' is doing the rounds on Whatsapp. The app has
listed several banks with a mobile or a call centre number.
NITI Aayog begins
mid-term appraisal of 12th Five Year Plan
The NITI Aayog has initiated the mid-term appraisal process
of the 12th Five Year Plan, an exercise which has long been followed prior to
establishment of the new body that replaced the Planning Commission.
Completing its 100 days, the National Institution for
Transforming India (NITI) Aayog today said the last three months have been
"tremendous" in the role of its inception as a think thank of the government.
The erstwhile 50 years old Planning Commission of the
socialist era was replaced by NITI Aayog earlier this year.
Its role is to act as a think-thank to the government with
noted economist Arvind Panagariya as its vice chairman.
NITI has the role to work with the Centre to forge a model
of cooperative federalism, whereby the Centre and states forming Team India can
come together to chart a common course for progress and prosperity, said the
release.
Airbus expresses support
for Modi's 'Make in India' initiative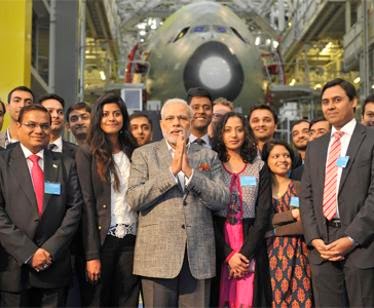 Expressing support for the Government's 'Make in India'
initiative, aircraft manufacturer Airbus today said it is ready to manufacture
in India, as Prime Minister Narendra Modi visited its facility here.
Modi took a tour of the facility where planes are
manufactured. He was given a briefing by officials on the functioning of the
facility.
Airbus Group CEO Tom Enders, who received the Indian leader,
said: "We are honoured to host Prime Minister Modi in Toulouse and convey to
him our desire to forge a stronger industrial bond with India. India already
takes a centre-stage role in our international activities and we want to even
increase its contribution to our products."
In India, Airbus Group already operates two engineering
centres — one focused on civil aviation and the other on defence — besides, a
research and technology (R&T) centre, which together employ over 400 highly
qualified people.
The group's senior representative conveyed their decision to
expand these centres so that they can take on comprehensive design
responsibilities for future Airbus group programmes.
Sports
–
Apurvi Chandela books
Rio ticket with World Cup bronze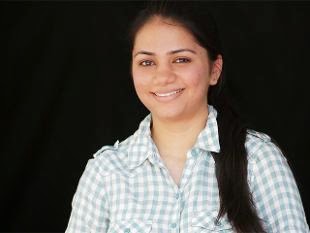 Commonwealth Games gold medal winning Indian shooter Apurvi
Chandela today qualified for next year's Olympic Games after notching up the
10m air rifle bronze in the ongoing ISSF World Cup (Rifle/Pistol) in Changwon,
Korea.
Apurvi shot a total of 185.6 in the finals, to finish behind
Pejcic Snjezana of Croatia, who won gold, and Ivana Maksimovic of Serbia, who
clinched the silver medal.
Pejcic eventually finished with a score of 209.1 to Ivana's
207.7 at the end of the gold medal match up. There were three Olympic quota places
to be bagged in the event.
Pistol ace Jitu Rai had won India's first Olympic quota
place at the World Championships in Granada, Spain last year, when he won silver
in the 50m Free Pistol event.
Each country can win a maximum of 30 quota places from a
total of 15 shooting disciplines (including shotgun events), two each from each
discipline.
Four Indians
Identified for UK's 2015 National Tennis Championship
Four Indian junior tennis players — Shashank Teertha,
Sacchitt Sharma, Prinkle Singh and Mahak Jain — sealed their place in the
England's national grass court championship by emerging as the finalists of the
'Road to Wimbledon' event which concluded, here today.
Sacchitt beat Shashank 6-2 6-4 in the boys final while Mahak
outplayed Prinkle 6-1 6-1 in the girls final of the Masters event in which 16
boys and 16 girls competed.
The Masters event for the Under-14 players was held
following conclusion of preliminary qualifiers in Kolkata, Chandigarh, Delhi
and Mumbai.
The four Indian players will now compete in UK's
championship in August 2015 at the All England Club.
Last year India's Siddhant Banthia had not only qualified
for the RTW but also became the singles champion after defeating top seed
Maxime Trenakhin.
Siddhant and Adil Kalyanpur had also claimed the doubles
title while Indian girls Aarja Chakraborty and Shivani Ingle had ended runners-up
in the girls' doubles.
The agreement between the All India Tennis Association
(AITA) and the Wimbledon Foundation for the 'Road to Wimbledon' programme has
been extended till 2017.
India stuns world
champions Australia in Sultan Azlan Shah Cup
Young striker Nikkin Thimmaiah scored a hat-trick as India
produced their best performance of the tournament to stun world champions and
title holders Australia 4-2 today and secure a place in the third and fourth
place play-off at the Azlan Shah Cup hockey tournament here.
Already out of title race, India played without pressure and
at last came up with a complete performance that had Australia on the backfoot
for most part of the match.
The win gave also gave India's new chief coach Paul van Ass
his best moment of a short career with the Indian team.
India scored a goal each in all the four quarters through VR
Raghunath (1st minute), Nikkin (23rd, 32nd, 60th), while Australia's goals came
from the sticks of Daniel Beale (14th) and Matt Gohdes (53rd).
By virtue of this win, India finished their league
engagements with seven points from five game and will now face either Korea or
New Zealand in the third-fourth place classification match tomorrow.
The Kookaburras struggled for ball possession throughout the
match and their defence crumbled when put under pressure by the Indian
forwards.
Appointments
–
Arun Kumar Jha
appointed as CEO of Khadi and Village Industries Commission (KVIC)
Arun Kumar Jha was appointed as Chief Executive Officer
(CEO) of Khadi and Village Industries Commission (KVIC).
The decision in this regard was taken on 10 April 2015 by
the Department of Personnel and Training (DoPT) of the Union Ministry of
Personnel, Public Grievances and Pensions.
As the CEO of KVIC, he will oversee the day-to-day
functioning of the commission and report about its activities to the Union
Ministry of Micro, Small and Medium Enterprises (MSME).
Before this appointment, he had been working as the Director
General of National Institute of Entrepreneurship and Small Business
Development (NIESBUD) functioning under the Union Ministry of MSME.
Jha is a 1985-batch Indian Economics Service (IES) officer.
Bharat Hari Singhania
became the president of JK Organization
Bharat Hari Singhania assumed the presidency of JK
Organization. The company issued a formal statement on 9 April 2015 in this
regard.
He succeeded Gaur Hari Singhania who died on 4 April 2015.
The JK Group is 125-year-old and has footprint in 100
countries. It has overseas manufacturing operations in Indonesia, Mexico,
Romania, Belgium, Portugal and the UAE.
World
–
US Astronomer Names
Asteroid After Malala Yousafzai
An asteroid discovered by a US astronomer has been named
after Pakistan's teenage education activist and the world youngest Nobel Peace
Prize winner Malala Yousafzai.
The more-than-2-mile-wide asteroid—officially now known as
"316201 Malala"—orbits the sun every five-and-a-half years in the asteroid belt
between Mars and Jupiter. Amy Mainzer, the NASA astronomer who discovered the
rock, was the one who named it after Yousafzai.
Malala became the youngest Noble Peace Laureate last year
when he was declared winner with Indian child right activist Kailash Satharthi.
She was attacked by Taliban in 2012 for standing up for the
right of girls to attend school in her native Swat region which was controlled
by Taliban from 2007 to 2009 when they were expelled by Pakistan army.
Days
–
National Safe Motherhood Day 2015 Observed on 11th April
with the theme "Nothing About Us Without Us"
April 11th is the National Safe Motherhood Day. WRA India
appealed to the Government of India for a declaration of a National Safe
Motherhood and subsequently, the government declared 11 April as the National
Safe Motherhood Day in the year 2003.
Since then every year a theme is selected by WRA India
members and year-long campaign is built around the theme.
The theme for this year is 'Nothing About Us Without Us' –
Citizens participation and engagement for improving women's and children's
health.
Main objectives of
National Safe Motherhood Day :
Goal is to ensure that all women realise their rights to be
safe and healthy before, during and after childbirth
Vision is a world where the right of all women to be safe
and healthy before, during and after childbirth is upheld
WRA's mission is to inspire and convene advocates who
campaign to uphold the right of all women to be safe and healthy before, during
and after childbirth
Regards
Team ExamPundit
Sponsored

(adsbygoogle = window.adsbygoogle || []).push({});
Books For 2015 Banking/Insurance Exams