Hello and welcome to ExamPundit. Here are the Important Current Affairs of 10th December, 2015. These are important for the upcoming IBPS Clerk Mains and Insurance Exams.
Finance/Economy
–
Luxembourg became the
10th country to ratify AoA of Asian Infrastructure Investment Bank
Luxembourg on 8 December 2015 became the 10th country to
ratify the Articles of Agreement (AoA) that will lay the legal framework for
the China-initiated Asian Infrastructure Investment Bank (AIIB).
Apart from Luxembourg, Australia, Austria, Brunei Darussalam,
China, Mongolia, Nepal, New Zealand, Singapore and United Kingdom ratified the
60-article agreement so far.
These 10 countries are among the 57 founder-member countries
of the multilateral bank that has its headquarters in the Chinese capital
Beijing.
Among the 57 founder-member countries, except the
Philippines all other 56 countries have signed the AoA and 46 countries are yet
to ratify it.
Union Cabinet
approved 4000 crore rupees proposal for shipbuilding industry
The Union Cabinet on 9 December 2015 approved a 4000 crore
rupees proposal for introducing measures to encourage Shipbuilding and Ship
Repair Industry in India.
The proposal will give a big boost to the shipbuilding and
ship repair industry and will facilitate the Make in India initiative of the
Union Government.
Highlights of the
proposal
To counter the cost-disadvantages, the government will grant
a financial assistance of 20 percent of the contract price or the fair price,
whichever is lower following the delivery of the ship.
The assistance will be reduced by 3 percent in every three
years and will be given for all types of ships.
This policy will be in force for ten years. The
implementation of this policy would require budgetary support of 4000 crore
rupees over ten years.
ADB to lend $1 bn to
Power Grid Corp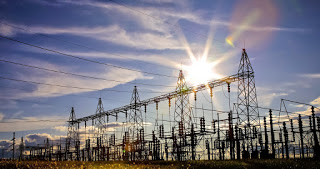 Multilateral lending agency Asian Development Bank will
provide $1 billion loan to central transmission utility Power Grid Corp for
renewable energy transmission and grid expansion in India.
"ADB is to provide a $500 million government-backed
loan and a further $500 million in nonsovereign lending to India's national
transmission company, Power Grid Corporation of India Limited," ADB said
in a statement here.
The funds will be used to build and upgrade high voltage
transmission lines and substations in Rajasthan and Punjab, as part of the
Indian government's Green Energy Corridor initiative.
Earlier this year, India announced ambitious plans to
achieve a national renewable energy target of 175 GW by 2022. About 90 per cent
of this is expected to be generated from solar and wind sources which are concentrated
in a few Indian states.
Investment in efficient, inter-state transmission
infrastructure that can address the intermittency and timing differences of
renewable energy is therefore critical in supporting expansion and optimal use
of renewable energy in India.
India
–
ISRO to launch six
Singaporean satellites on December 16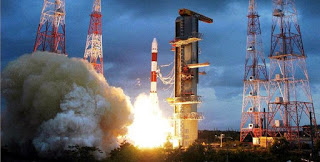 India will be launching six Singaporean satellites weighing
a total of around 625 kg on the evening of December 16th through its Polar
Satellite Launch Vehicle (PSLV) rocket, a senior official said.
According to him, the major luggage for the PSLV rocket will
be the earth observation satellite called TeLEOS, weighing around 400 kg.
ISRO will be flying the 'core alone' variant of the PSLV
rocket. The rocket will not have the strap on boosters, its standard feature.
The December 16 mission will be the last rocket launch
mission for ISRO in 2015.
Till date, in the 2015 calendar year, ISRO has launched 14
satellites (3 Indian and 11 foreign) from its rocket port in Sriharikota.
Thirteen satellites were launched with PSLV rocket and one communication
satellite – GSAT-6-with geosynchronous satellite launch vehicle (GSLV).
2016: UK-INDIA Year
of Education, Research and Innovation launched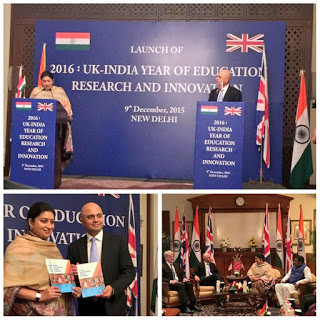 India and United Kingdom on 9 December 2015 launched a joint
initiative 2016: UK-INDIA Year of Education and Research in New Delhi.
It was launched by visiting Secretary of State, Business
Innovation and Skill of the UK Sajid Javid along with Human Resource
Development (HRD) minister Smriti Irani.
Main Highlights of
2016: UK-INDIA Year of Education and Research
In 2016, it will allow UK academicians to come to India
under Global Initiative of Academic Networks (GIAN) programme.
It will enhance partnership in research work in ten research
priority areas under IMPRINT (IMPacting Research Innovation and Technology).
Jawaharlal Institute
of Postgraduate Medical Education and Research declared National Data Recovery
Centre for telemedicine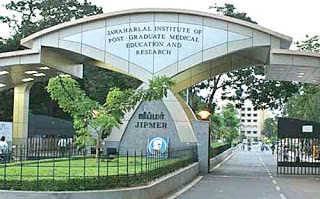 JIPMER, a premier medical institution in the Central sector
in the Union Territory has been declared as a National Data Recovery Centre
(NDRC) for telemedicine by the Health and Family Welfare Ministry.
JIPMER Director S C Parija in a statement said the Health
Ministry had already declared it as a regional resource centre for telemedicine
for all medical colleges in Andhra Pradesh, Karnataka, Kerala, Tamil Nadu, Puducherry
and Telangana.
Fully equipped with infrastructure, it had been declared to
be the NDRC for telemedicine, which would recover country's data regarding
telemedicine from the institute in the event of loss of data, he said.
Parija said the project would be supported by the Health and
Family Welfare Ministry.
Operationalise
Organised Crimes Investigation Agency by 1 December 2016: SC
The Supreme Court on 9 December 2015 asked the Union
Government to operationalise the Organised Crimes Investigating Agency (OCIA)
by 1 December 2016. OICA will probe human trafficking cases across the nation.
The direction was given by Supreme Court bench headed by
Justice AR Dave and comprising of Justice Madan B Lokur and Justice Kurian
Joseph. Issuing these directions, the bench disposed of a PIL filed in 2004.
The bench also asked the Ministry of Women and Child
Development to complete the consultation process in six months on the issue of
making a comprehensible legislation to deal with issues like prevention, rescue
and rehabilitation of the victims of trafficking for commercial and sexual
exploitation.
Sports
–
Virat Kohli co-owns
Bengaluru team in Pro Wrestling League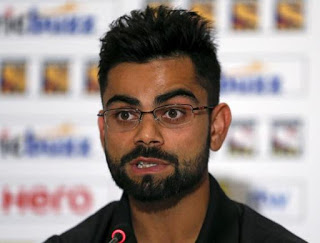 Bengaluru Yodhas, the JSW Group owned franchise in the Pro
Wrestling League, has announced India's Test captain Virat Kohli as the
co-owner of the team.
Kohli who led the Indian team to a 3-0 Test series victory
over South Africa recently, is all set to take it #FromBatToMat with this
association with the Bengaluru franchise.
The Pro Wrestling League, whose inaugural edition kicks off
today (December 10) in New Delhi's KD Jadhav stadium, pits six city-based
franchises against one another in one of the richest freestyle wrestling
tournaments in the world.
Kohli's Bengaluru Yodhas will face Rohit Sharma's UP
Warriors in their opening fixture on, where the world will see the two
cricketers as owners and in different dug outs.
Afghanistan board
signs MoU with Noida stadium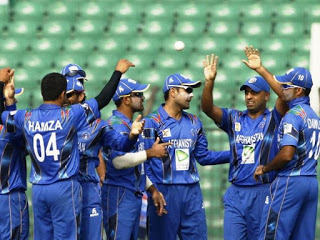 Afghanistan cricket team has shifted its home base from
Sharjah to the UPCA stadium in NOIDA where they will play their matches and
practice after a MoU was signed on Thursday in this regard.
According to the Memorandum of Understanding with BCCI and
Greater Noida Industrial Development Authority, the Afghanistan Cricket Board
(ACB) will be able to utilise the facilities of the Shaheed Vijay Singh Pathik
Sports Complex, which has successfully hosted a Ranji Trophy game between Uttar
Pradesh and Baroda.
BCCI Secretary Anurag Thakur, who also signed the MoU papers
in presence of UPCA Secretary Rajeev Shukla, not only gave the new ground big
thumbs up but also complimented the Afghanistan team for its recent success.
ICC announces OPPO as
Global partner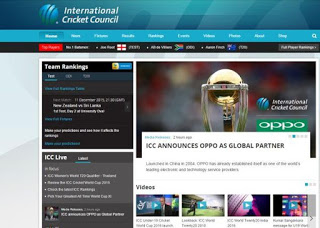 The International Cricket Council (ICC) has announced an
exciting new global partnership with OPPO, a leading mobile telephone device
companies, on a four-year deal which runs from 2016 until 2020.
Launched in China in 2004, OPPO has a strong presence in
more than 20 countries, including Australia, China, USA and right across
Africa, Europe, the Middle East, South Asia and Southeast Asia.
Commenting on the new partnership, ICC Chief Executive David
Richardson said: "The ICC is delighted to welcome OPPO on board as a Global
Partner and we are excited about the opportunity to team up for the next four
years.
Mahela Jayawardene
awarded honorary lifetime membership of MCC
Former Sri Lanka captain Mahela Jayawardene on 9 December
2015 was awarded with an honorary life membership of the Marylebone Cricket
Club (MCC).
MCC awarded the honorary life membership of the club to
recognise Jayawardene's stellar career in which he played 149 Test matches and
scored 11814 runs at an average of 49.84.
Jayawardene became the 14th Sri Lankan to be awarded with
MCC Honorary Life Membership. Kumar Sangakkara, Muttiah Muralitharan and
Chaminda Vaas were awarded with the same.
Days
–
Human Rights Day
observed across the world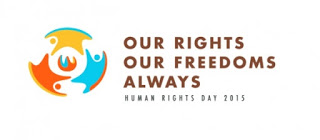 Human Rights Day was on 10 December 2015 observed across the
world. It aimed to promote and raise
awareness of the two Covenants of Human Rights Day- International Covenant on
Economic Social and Cultural Rights (ICESCR) and the International Covenant on
Civil and Political Rights (ICCPR).
On the occasion of the day that marks 50th anniversary of
these two International Covenants, the United Nations (UN) Human Rights Office
launched Our Rights. Our Freedoms. Always, a year-long campaign to shine a
light on the inalienable and inherent rights of global citizens.
Appointments
–
FreeCharge appoints
Anshul Kheterpal as CFO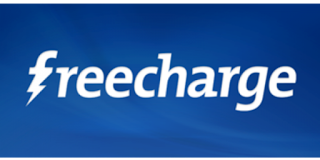 Digital payments platform FreeCharge today announced the
appointment of Anshul Kheterpal as its chief financial officer.
In his new role, Anshul will help craft strategies for the
payments business at FreeCharge and Snapdeal and closely work with the senior
leadership teams to strengthen the digital payments business, FreeCharge said
in a statement.
In April, Snapdeal had announced the acquisition of FreeCharge.
Prior to the appointment at FreeCharge, Anshul was CFO and
Principal Officer of Airtel Money.
Kapil Chopra to head
world tourism council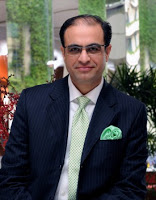 Kapil Chopra, President, The Oberoi Group, has been
appointed as the Chairman of World Travel & Tourism Council, India
Initiative (WTTCII) for 2016, a statement from the hotel group said on
Thursday.
The Annual General Meeting of the WTTCII was held on December
9. Chopra, who served as the council's Vice-Chairman for 2015, takes over from
Manav Thadani, Chairman, HVS, South Asia.
Ashwani Lohani, Chairman & Managing Director, Air India,
has been appointed as the Vice-Chairman of WTTCII for 2016.
Prakash Kumar Singh
takes charge as SAIL Chairman
Prakash Kumar Singh has taken charge as Chairman, Steel
Authority of India Ltd (SAIL), the public sector undertaking said in a
statement on Thursday.
Prior to this, 57-year-old Singh was the CEO of SAIL's
Durgapur Steel Plant. In July 2015, he was also given the additional charge of
CEO, IISCO Steel Plant.
An alumnus of IIT, Roorkee in Metallurgical Engineering, he
started his career in Bokaro Steel Plant in 1980, the statement added.
Reports
–
UNCTAD released
Handbook of Statistics 2015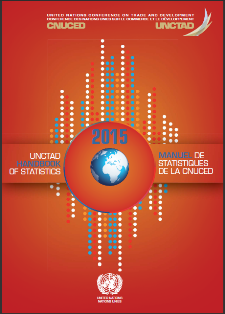 The United Nations Conference on Trade and Development
(UNCTAD) on 8 December 2015 released Handbook of Statistics 2015. The annual
publication provided a collection of statistics and indicators relevant to the
analysis of international trade, investment and development for 2014.
As per the handbook, the total global exports for 2014 were
valued at 24 trillion US dollars, up by 1.2 per cent compared with 2013.
And, India's total merchandise export for 2014 was valued at
321 billion US dollars against 314 billion US dollars in 2013.
Highlights of
Handbook of Statistics 2015
Total exports from developed economies accounted for 55 per
cent (13.2 trillion US dollars) of total global trade.
Developing economies accounted for 41 per cent (10 trillion
US dollars) of total exports with transition economies accounting for the
residual 890 million US dollars, or 4 per cent, of exports.
ADB released Asian
Economic Integration Report 2015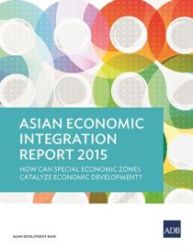 Asian Development Bank (ADB) on 8 December 2015 released a
report entitled Asian Economic Integration Report 2015: How Can Special
Economic Zones Catalyze Economic Development?
The report examined current trends in trade, finance,
migration, remittances and other economic activities in the region, with a
special chapter on the role of special economic zones (SEZs).
Key findings of
the report
Asia's income elasticity of trade declined from 2.69 before
the global financial crisis (2008-09) to 1.30 in 2015.
The value of Asia's intermediate goods trade—almost 60
percent of total trade—contracted 2.6 percent in 2014.
Structural factors for the above decline include a general
trend of rebalancing away from export and investment toward consumption and
services.
World
–
World's 1st
anti-dengue vaccine 'Dengvaxia' approved in Mexico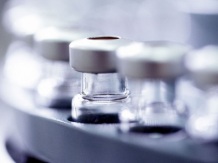 At a time when India is struggling with rising number of
dengue cases with each passing year, the Mexican government has approved the
world's first anti-dengue vaccine which is designed to protect people in the
9-45 age group from nine to 45 years from all four subtypes of the virus.
Called Dengvaxia, the vaccine has been developed by
France-based Sanofi Pasteur and is the result of an extensive clinical
development programme running for almost two decades.
While dengue affects nearly 400 million people in endemic
areas, mostly in tropical and subtropical countries in Latin America and Asia,
India saw one of the worst outbreak of the deadly disease this year with 32
deaths recorded in New Delhi alone till October.
With the total number of dengue cases in the capital
reaching over 12,000 in October, Delhi recorded the highest number of patients
of the viral disease in 19 years, according to health authorities.
Even as Dengvaxia has become the first vaccine to be
licensed in the world for the prevention of dengue, the dengue toll in West
Bengal has touched 12 with the last death reported on November 5, according to
state health officials.
IISc Banglore bagged
solar panel research and development contract from US Military
The prestigious Indian Institute of Science (IISc) Banglore
on 9 December 2015 bagged a US military contract for research and development
on solar powered micro-grid.
It is one of the rare instances that an Indian scientific
institute has been awarded a federal contract by the US military.
Highlights of the
contract
The federal contract worth 52900 US dollars was awarded by
the US Pacific Air Forces, Yokota Air Base in Japan.
The contract is awarded to develop solar powered micro-grid
with battery and supercapacitor energy storage system.


Regards
Team ExamPundit
Sponsored

(adsbygoogle = window.adsbygoogle || []).push({});
Books For 2015 Banking/Insurance Exams