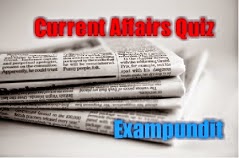 1. India launched Visit India Year in which country?
(a) Russia
(b) United States of America
(c) Singapore
(d) Japan
(e) China
2. Ra'ad is an Air Launched Cruise Missile recently launched
by which country?
(a) Israel
(b) Iran
(c) Pakistan
(d) Turkey
(e) None of the above
3. Ukraine ceasefire deal agreed at Minsk talks in the
first week of February. Minsk is located in which country?
(a) Ukraine
(b) Russia
(c) Poland
(d) Belarus
(e) Serbia
4. Recently, USA & UK were the major countries to
shut down its embassy in which country?
(a) Israel
(b) Ukraine
(c) Iraq
(d) South Sudan
(e) Yemen
5. National Games mascot Ammu is ________.
(a) A great Indian Sumatran Rhinoceros
(b) A Girl Child
(c) A School going boy
(d) A great hornbill
(e) A Parrot
6. The ICC Cricket World Cup 2015 Opening Ceremony was
held in –
(a) Sydney
(b) Melbourne
(c) Christchurch
(d) Both (a) and (c)
(e) Both (b) and (c)
7. Yahoo recently signed a retired Cricketer as their
World Cup 2015 analyst. Who is the cricketer?
(a) Jonty Rhodes
(b) Rahul Dravid
(c) Sourav Ganguly
(d) Gary Kirsten
(e) Glenn McGrath
8. Bala Devi is related to which sport?
(a) Cricket
(b) Boxing
(c) Football
(d) Tennis
(e) Badminton
9. Who is the newly appointed Defence Secretary of US?
(a) Ashton Kutcher
(b) Joe Biden
(c) Chuck Hagel
(d) Leon Panetta
(e) None of them
10. World Radio Day is celebrated on which day?
(a) 10th February
(b) 21st January
(c) 13th February
(d) 1st February
(e) 11th January
11. Which country was ranked One in World Press Freedom
Index 2015?
(a) Norway
(b) Finland
(c) Denmark
(d) Switzerland
(e) Italy
12. First Robot-staffed Hotel of the World to open in
________.
(a) China
(b) USA
(c) Japan
(d) Malaysia
(e) UAE
13. In a recent announcement that shook all countries,
Yemen was taken over by _______.
(a) Houthis
(b) Islamic State
(c) Basij
(d) Hezbollah
(e) Ba'ath Brigades
14. Who is the newly appointed president of Italy?
(a) Gianfranco Fini
(b) Sergio Mattarella
(c) Giorgio Napolitano
(d) Matteo Renzi
(e) Massimo D'Alema
15. Zakir A. Naik received King Faisal International
Prize for the year 2015. Which country does he belong?
(a) Pakistan
(b) Afghanistan
(c) Malaysia
(d) Saudi Arabia
(e) None of these
16. Serena Williams defeated whom to win the 2015
Australian Open?
(a) Maria Sharapova
(b) Caroline Wozniacki
(c) Petra Kvitova
(d) Ana Ivanovic
(e) Martina Hingis
17. Leander Paes won Australian Open 2015 Mixed Doubles
title teaming up with Martina Hingis. Which country does Martina
Hingis represent?
(a) Australia
(b) Russia
(c) United States of America
(d) Serbia
(e) Switzerland
18. Saloni Dalal became youngest medal winner in National
Games 2015. Which sport does she belong?
(a) Table Tennis
(b) Swimming
(c) Archery
(d) Badminton
(e) Boxing
19. What was the 2015 World Cancer Day tagline?
(a) Not beyond Us
(b) Debunk the myths
(c) Achieving treatment for all
(d) Cancer – Did you know?
(e) Prevention, Detection, and Treatment
20. IMF, World Bank agreed for $19.5-bn financial aid to
_________.
(a) Syria
(b) Iraq
(c) Israel
(d) Ukraine
(e) Turkey
ul {
list-style-image: url('http://4.bp.blogspot.com/-gAFqjkaJ4EY/VORst7iCYVI/AAAAAAAADNg/v6whpjPfgh8/s1600/Bullet-Stock.png');
}
This Quiz contains International and Sports Current Affaris From Feb 1 to Feb 13, 2015