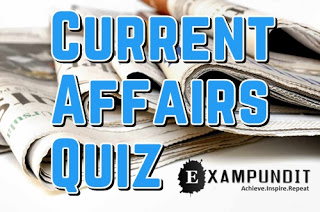 Hello and welcome to ExamPundit. Here is the 7th Set of the Current Affairs Quiz set for the Month of September.
1. Pradhan Mantri
Khanij Kshetra Kalyan Yojana was launched for which of the following purpose?
1) welfare of areas and people affected by mining related
operations
2) welfare of areas and people affected by drought related operations
3) welfare of areas and people affected by electricity
related operations
4) welfare of areas and people affected by transportation
related operations
5) None of the above
2. What the outlay of
PM Narendra Modi launched Integrated Power Development Scheme?
1) 25000 Crore Rupees
2) 450000 Crore Rupees
3) 250000 Crore Rupees
4) 45000 Crore Rupees
5) 4500 Crore Rupees
3. How many
classified Netaji files were declassified by the West Bengal State Government?
1) 130
2) 64
3) 68
4) 72
5) 62
4. Which of the
following state government recently launched M-Shiksha-Mitra mobile app for
teachers?
1) Madhya Pradesh
2) Maharashtra
3) Telengana
4) Tamil Nadu
5) Rajasthan
5. Which of the
following operations a Small Finance Bank will not be able to perform?
1) Undertake basic banking activities of acceptance of
deposits and lending
2) Can lend only for financial inclusion including small
business units, small and marginal farmers, micro and small industries and
unorganised sector entities
3) Can distribute mutual fund products, insurance products
and pension products
4) Can set up subsidiaries to undertake non-banking
financial activities
5) Both 2 and 3
6. Manpreet Kaur recently
broke the 18 year old National Record in which field of sport?
1) Archery
2) Boxing
3) Shot Put
4) Shooting
5) None of the above
7. Retirement body
Employees Provident Fund Organisation recently raised the Maximum Insurance
cover to 6 lakhs rupees. How much it was
earlier?
1) 4 lakhs
2) 3 lakhs
3) 4.6 lakhs
4) 3.6 lakhs
5) 3.8 lakhs
8. Which of the
following Indian shuttler won the Silver Medal in 2015 Korea Open Badminton
tournament in Men's singles category?
1) Ajay Jayaram
2) Chetan Anand
3) Sourabh Varma
4) Srikanth Kidambi
5) Akshay Dewalkar
9. Which of the
following cricketer was recently honoured with the Icon Award by the
Indo-Caribbean Alliance?
1) Ramanaresh Sarwan
2) Ravi Rampaul
3) Sunil Narine
4) Samuel Badree
5) None of them
10. With which of the
following country did India recently sign two MoUs on Air Services and Quick
Impact Projects?
1) Nepal
2) Sri Lanka
3) Laos
4) Fiji
5) Maldives


Regards
Team ExamPundit
Sponsored

(adsbygoogle = window.adsbygoogle || []).push({});
Books For 2015 Banking/Insurance Exams