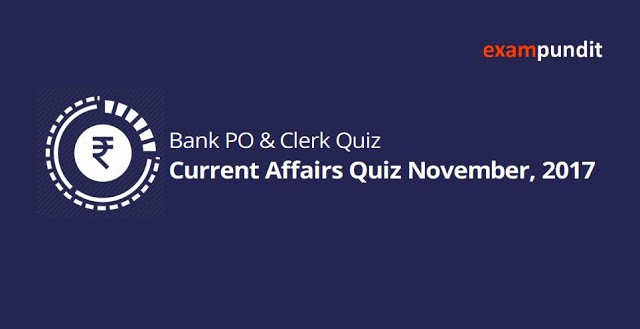 Hello and welcome to exampundit. Here are important Current Affairs questions from November 5 to November 8, 2017.
1. Which of the following bank did recently launch voice-based
international remittance service on its Money2India application?
(a) ICIC Bank
(b) Yes Bank
(c) Axis Bank
(d) HDFC Bank
(e) IndusInd Bank
2. On which of the following online transactions did HDFC
Bank waive off transaction charges?
(a) NEFT
(b) RTGS
(c) IMPS
(d) Both 1 & 2
(e) All 1, 2 & 3
3. What amount of financial assistance did Shipping Ministry
announce under the Coastal Berth Scheme of the Sagarmala Programme?
(a) ₹2802.05 crore
(b) ₹2302.05 crore
(c) ₹2602.05 crore
(d) ₹2382.05 crore
(e) ₹2832.05 crore
4. What amount of financial assistance did International
Finance Corporation announce for projects by Ashiana Housing Limited (Ashiana)
meant for affordable / mid-income housing as well as retirement homes for the
elderly?
(a) $28 million
(b) $23 million
(c) $21 million
(d) $26 million
(e) $27 million
5. SAMPRITI-7 is a military exercise between India and
_______________.
(a) Sri Lanka
(b) Nepal
(c) Bangladesh
(d) Bhutan
(e) Vietnam
6. How much amount did India announce to contribute to the
UN partnership fund, scaling up its support to sustainable development projects
across the developing world?
(a) $200 million
(b) $150 million
(c) $500 million
(d) $100 million
(e) $300 million
7. The government launched Deen Dayal SPARSH Yojana to
promote which of the following hobbies?
(a) Pottery
(b) Coin Collection
(c) Deltiology
(d) Origami
(e) Philately
8. How much amount of financing agreement did India and
World Bank sign for the Odisha Higher Education Programme for Excellence &
Equity (OHEPEE) Project?
(a) US$ 119 Million
(b) US$ 118 Million
(c) US$ 113 Million
(d) US$ 116 Million
(e) US$ 117 Million
9. The 20th International Children's Film
Festival India (ICFFI), popularly known as the Golden Elephant began in
_________.
(a) Mumbai
(b) Kolkata
(c) Hyderabad
(d) New Delhi
(e) Bengaluru
10. With which of the following nation did India recently announce
to collaborate on multi-radio telescope project?
(a) Japan
(b) South Africa
(c) Russia
(d) Canada
(e) South Korea
11. The Indian Army on 4 November 2017 launched an independent
and fully-integrated Joint Training Node (JTN) in which of the following state?
(a) Meghalaya
(b) Sikkim
(c) Manipur
(d) Assam
(e) Tripura
12. Which of the following state was chosen to host the
Nobel Prize Series – India event during 1-28 February 2018?
(a) Maharashtra
(b) Kerala
(c) Goa
(d) Delhi
(e) Karnataka
13. Indian boxer MC Mary Kom on 8 November 2017 won the Gold
Medal at the Asian Boxing Championship 2017 in ______.
(a) 46 kg category
(b) 48 kg category
(c) 50 kg category
(d) 52 kg category
(e) 54 kg category
14. Which of the following municipal corporation won the Best
City Bus Services Award for attracting 87% of private vehicles users?
(a) Ahmedabad
(b) Kochi
(c) Bhopal
(d) Surat
(e) Lucknow
15. World Tsunami Awareness Day is observed on
_____________.
(a) 4 November
(b) 6 November
(c) 7 November
(d) 3 November
(e) 5 November
16. Which of the following country did India defeat to
qualify for the 2018 Women's Hockey World Cup and win the Asia Cup 2017?
(a) China
(b) Japan
(c) South Korea
(d) Australia
(e) Indonesia
Answers:
A
D
B
B
C
D
E
A
C
B
A
C
B
D
E
A
Sponsored

(adsbygoogle = window.adsbygoogle || []).push({});
Regards
Team ExamPundit