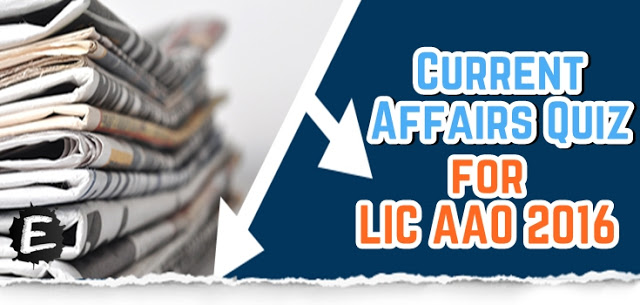 Hello and welcome to ExamPundit. Here is the 2nd Set of Current Affairs Quiz for LIC AAO 2016. This set is based on the most Important Current Affairs of January, 2016.
1. The Nati folk
dance was listed in the Guinness Book of World Records as the largest folk
dance in the world. In which of the
following states did this folk dance originated?
1) Sikkim
2) Uttarakhand
3) Arunachal Pradesh
4) Manipur
5) Himachal Pradesh
2. Which of the
following organisations recently released the World Development Report 2016:
Digital Dividends?
1) United Nations Economic and Social Commission for Asia
and the Pacific
2) World Bank
3) International Monetary Fund
4) World Trade Organization
5) United Nations
3. Considered as a
veteran in his field, Aroon Tikekar recently passed away. In which field did he
belong to?
1) Music Composing
2) Poet
3) Physics
4) Journalism
5) Film Direction
4. Who won the Men's
Doubles Title in Australian Open 2016?
1) Jamie Murray and Bruno Soares
2) Simone Bolelli and Fabio Fognini
3) Daniel Nestor and Radek Stepanek
4) Rohan Bopanna and Florin Mergea
5) Henri Kontinen and John Peers
5. Which famous Bollywood
personality was recently honoured with National Yash Chopra Memorial Award?
1) Amitabh Bachchan
2) Mousumi Chatterjee
3) Rekha
4) Javed Akhtar
5) Dilip Kumar
6. Defence Minister
Manohar Parrikar on 23rd January hoisted the largest flag of the
country in which Indian state/UT?
1) Puducherry
2) Patna
3) Chattisgarh
4) Jharkhand
5) Madhya Pradesh
7. Which Indian State
Government recently tied up with Tata Trusts for skill training programme for
the youth in the state?
1) Madhya Pradesh
2) Maharashtra
3) Telengana
4) Bihar
5) Assam
8. The 20th
National Youth Festival was recently hosted in which Indian state?
1) Jharkhand
2) West Bengal
3) Odisha
4) Chhattisgarh
5) Himachal Pradesh
9. State Bank of
India recently launched "SBI Exclusif" for which of the following purpose(s)?
1) Personalized Banking Services for Start-up Business
2) Understand and address banking needs of a Start-up
Business
3) Wealth management service
4) Both 1 and 2
5) Both 2 and 3
10. The Stand Up
India Scheme will provide refinance window through Small Industries Development
Bank of India (SIDBI) with an initial
amount of _____________.
1) 15000 Crore Rupees
2) 30000 Crore Rupees
3) 10000 Crore Rupees
4) 25000 Crore Rupees
5) 20000 Crore Rupees
11. In a global
first, the World Bank in third week of January 2016 decided to extend an
assistance of _________ US dollar to
help reconstruct the Indira Gandhi Zoological Park (IGZP) in Andhra Pradesh.
1) 10 million
2) 20 million
3) 15 million
4) 25 million
5) 30 million
12. Which of the
following companies recently acquired KBACE Technologies for an undisclosed
amount?
1) IBM
2) Tata Consultancy Services
3) Capgemini
4) Infosys
5) Cognizant
13. Who was recently
appointed as Chairman and Managing Director of National Thermal Power Corporation?
1) Dinesh Kumar Sarraf
2) B. C. Tripathi
3) Sutirtha Bhattacharya
4) Gopal Singh
5) Gurdeep Singh
14. Which of the
following country recently unveiled country's first stealth fighter aircraft
X-2?
1) China
2) Japan
3) The US
4) France
5) Russia
15. What was India's
rank in Corruption Perceptions Index (CPI) 2015?
1) 76th
2) 78th
3) 73rd
4) 74th
5) 91st
the fighter
Ruchi
Sur (*-*)
Answers for Low End Mobiles:
5
2
4
1
3
4
2
4
3
3
2
5
5
2
1


Regards
Team ExamPundit
Sponsored

(adsbygoogle = window.adsbygoogle || []).push({});
Average rating / 5. Vote count:

EP Recommends: Practicemock Free Mock Tests