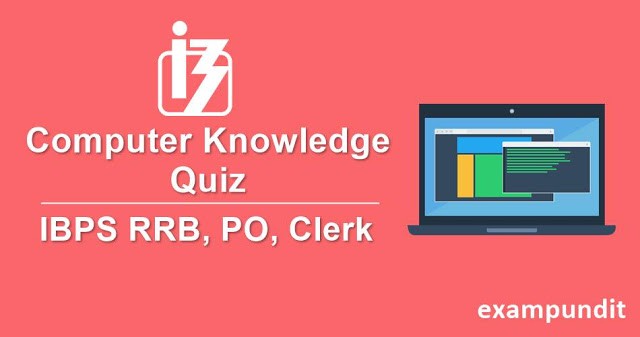 Hello and welcome to
exampundit
. Here is a set of Computer Knowledge Quiz for upcoming IBPS RRB PO & Clerk Exams.
1. To produce a high-quality graphics (hard copy) in colour, you would like to use a
1) Virtual printer
2) Laser printer
3) Ink-jet printer
4) Plotter
5) RGB monitor
2. Which of the following is the fastest memory ?
1) DDR RAM
2) DDR2 RAM
3) DDR3 RAM
4) Swap Memory
5) Buffer Memory
3. Commands at the top of a screen such as FILE-EDITFONT-TOOLS to operate and change things within programs are referred to as
1) menu bar
2) tool bar
3) user-friendly
4) word processor
5) None of these
4. CD-ROM stands for
1) Central Processing Unit
2) CD-Remote Open Mouse
3) CD-Resize or Minimize
4) CD-Read Only Memory
5) None of these
5. What is the name of an application program that gathers user information and sends it to someone through the Internet?
1) Virus
2) Spybot
3) Logic bomb
4) Security patch
5) None of these
6. Perforated paper used as input of output media is known as
1) paper tapes
2) magnetic tape
3) punched paper tape
4) card punch
5) None of these
7. A computer with CPU speed around 100 million instructions per second and word length of around 64 bits, is known as
1) Micro computer
2) Macro computer
3) Mini computer
4) Super computer
5) Nano computer
8. Two or more computers connected with each other for sharing information form a ________.
1) tunnel
2) server
3) router
4) network
5) None of these
9. ________ is a form of permanent memory that holds all the instructions the computer needs to start up and does not get erased when the power is turned off.
1) The Network Interface Card (NIC)
2) The CPU
3) RAM
4) ROM
5) None of these
10. Servers are computers that provide resources to other computers connected to a
1) network
2) mainframe
3) supercomputer
4) client
5) None of these
Sponsored

(adsbygoogle = window.adsbygoogle || []).push({});
Regards
Team ExamPundit