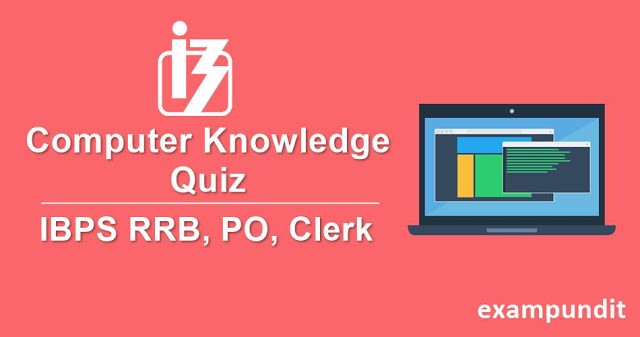 Hello and welcome to
exampundit
. Here is a set of Computer Knowledge Quiz for upcoming IBPS Exams.
1. Which of the following is used for broadband communications?
1) Cable modem
2) DSL modem
3) Satellite modem
4) All the above
5) None of these
2. ________ a document means the file is transferred from your computer to another computer.
1) Downloading
2) Really simple syndication
3) Accessing
4) Upgrading
5) Uploading
3. A(n) ________ allows you to communicate over the internet similar to a newsgroup but is easier to use.
1) forum
2) webmail
3) message board
4) weblog
5) None of these
4. A computer program used by search engine to roam the World Wide Web via the Internet, is
1) spamming
2) spider
3) specialised search engine
4) subject guide
5) None of these
5. A simple automated program that scans the web for specific data and insert into a designated database.
1) Web mining
2) Web database integration
3) Web crawler
4) Web scanning
5) Web searching
6. In web searching a symbol or keyword that instructs the search software to make sure that any retrieved records contain a certain word, is called
1) Data operator
2) Increment operator
3) Decrement operator
4) Inclusion operator
5) Search operator
7. Which of the following is a characteristic(s) of education software?
1) linked
2) interactive
3) dynamic
4) All the above
5) None of these
8. A(n) ________ is an open industry OS for data-enabled mobile phones that powers devices at the lower end of smartphone price spectrum.
1) Symbian OS
2) Palm OS
3) Mac OS
4) iPhone OS
5) Unix OS
9. By which of the following methods can you print out the name and address of all members of your dance club database?
1) A form
2) A filter
3) A report
4) A query
5) A directory
10. Date is generally entered in the form _______ in computer.
1) DD-YY-MM
2) YY-DD-MM
3) MM-YY-DD
4) MM-DD-YY
5) None of these
Sponsored

(adsbygoogle = window.adsbygoogle || []).push({});
Regards
Team ExamPundit