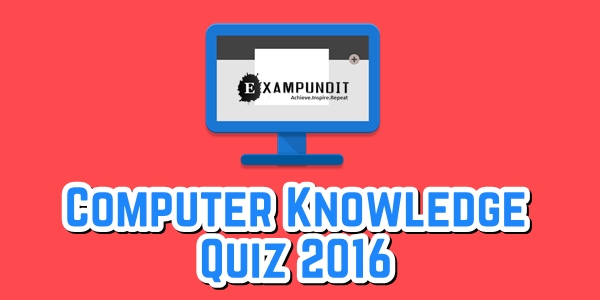 Hello and welcome to
exampundit
.
Here is a set of Computer Knowledge Quiz for UIIC Administrative Officer 2016.
Rules:
Post answers according to the following format(s)
1-2
2-3
3-4
Or
12345
54213
In case the options are ABCD, use the Appropriate Options.
Do Not Rectify anyone.
If you have any doubt regarding any question of the quiz, kindly ask after the quiz is over i.e answers given.
DO NOT GOOGLE ANSWERS!! IT WILL HAMPER YOUR PREPARATION
Do Not CHAT here. If you have any query, use today's Ask The Mentor Page.
At least 7 Attempts for Scores.
Exampundit.in reserves the right to choose winner or give scores.
1. ________ is a type of computer crime in which knowledgeable thieves
remove some of the computer's RAM
chips but leave enough to start the computer.
1) Memory shaving
2) Software piracy
3) Syn flooding
4) Cybergaming crime
5) None of these
2. The ________ is a portion of Internet that contains billions of
documents.
1) internet
2) w3. org
3) www
4) information highway
5) None of these
3. Which of the following is not a program command?
1) READ
2) PRINT
3) PURGE
4) WRITE
5) GO TO
4. This chart shows the proportional size of items that make up a data
series with respect to the sum of the
items:
1) Pie chart
2) Bar chart
3) Line chart
4) Column chart
5) Scatter chart
5. GDI represents
1) Global Data Interface
2) Graphics Data Interface
3) Graphics Device Interface
4) Global Device Interface
5) None of these
6. A robot consists of three basic components: power supply, memory and
1) software
2) arm
3) micro computer
4) co-axial cable
5) None of these
7. Status indicators are located on the
1) standard toolbar
2) formatting toolbar
3) formula bar
4) vertical scrollbar
5) horizontal scrollbar
8. What is the acronym for Dual-In-Line Memory Module?
1) DIMM
2) DM
3) DMM
4) DILMM
5) None of these
9. Data division is the third division of a ________ program.
1) LISP
2) FORTH
3) COBOL
4) BASIC
5) PASCAL
10. ________ file is created in Microsoft Excel.
1) Folder
2) Program
3) Data
4) Instruction
5) Local
Regards
Team ExamPundit