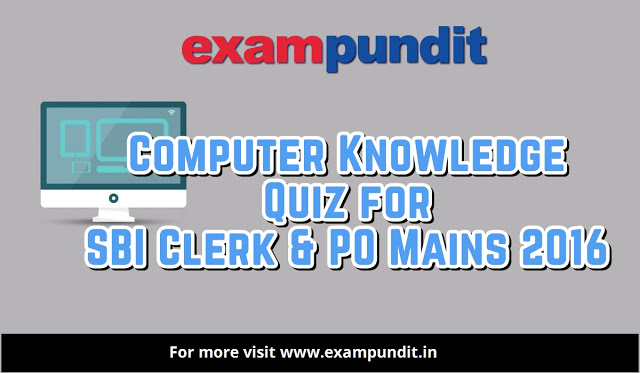 Hello and welcome to exampundit . Here is a set of Computer Knowledge Quiz for the upcoming SBI Clerk Mains 2016.
Read the followings carefully and answer
Rules:
Post answers according to the following format(s)
1-2
2-3
3-4
Or
12345
54213
In case the options are ABCD, use the Appropriate Options.
Do Not Rectify anyone.
If you have any doubt regarding any question of the quiz, kindly ask after the quiz is over i.e answers given.
DO NOT GOOGLE ANSWERS!! IT WILL HAMPER YOUR PREPARATION
Do Not CHAT here. If you have any query, use today's Ask The Mentor Page.
At least 7 Attempts for Scores.

Exampundit.in reserves the right to choose winner or give scores.
1. Which of the
following functions are not performed by servers ?
1) Email processing
2) Database sharing
3) Processing Web sites
4) Storage
5) Word processing
2. Which media have
the ability to have data/information stored (written) on them by users more
than once ?
1) CD-R disks
2) CD-RW disks
3) Zip disks
4) OptiDisks
5) Both CD-RW disks and Zip disks
3. The process of
transferring files from a computer on the Internet to your computer is called—
1) downloading
2) uploading
3) FTP
4) JPEG
5) downsizing
4. The ________ controls
a client computer's resources.
1) application program
2) instruction set
3) operating system
4) server application
5) compiler
5. To reload a Web
page, press the ________ button.
1) Redo
2) Reload
3) Restore
4) Ctrl
5) Refresh
6. Which of the
following could be digital input devices for computers ?
1) Digital camcorder
2) Microphone
3) Scanner
4) All of the above
5) None of these
7. The ________ enables
you to simultaneously keep multiple Web pages open in one browser window.
1) tab box
2) pop-up helper
3) tab row
4) address bar
5) Esc key
8. You can use the
________ bar to type a URL and display a Web page, or type a keyword to display
a list of related Web pages.
1) menu
2) Title
3) Search
4) Web
5) Address
9. Storage media such
as a CD read and write information using—
1) a laser beam of red light
2) magnetic dots
3) magnetic strips
4) All of these
5) None of these
10. Vendor-created
program modifications are called—
1) patches
2) antiviruses
3) holes
4) fixes
5) overlaps

And the winners are………
1) Abhinav – 10/10
2) Prithika – 9/9
3) Manisha – 8/10
Regards
Team ExamPundit

EP Recommends: Practicemock Free Mock Tests