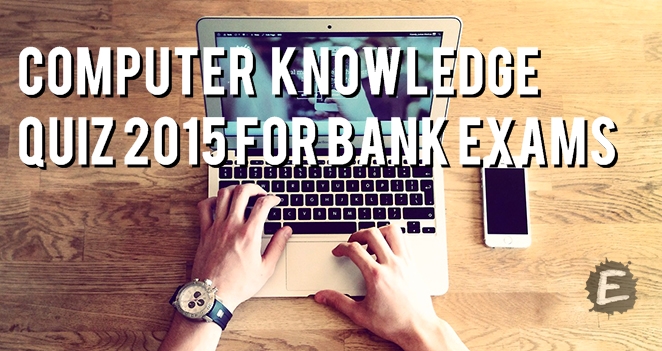 Hello and welcome to ExamPundit. Here is a set of Computer Knowledge Quiz for LIC AAO 2016.
1. How is power
supplied to a low-power USB device?
1) Through a power cable
2) From an external power supply
3) Directly from the computer's power supply
4) Through the USB cable
5) None of these
2. All of the
following are basic principles of networks, except
1) each computer must have a network card
2) there must be communications media connecting the network
hardware devices
3) there must be at least one connecting device
4) each computer must have software that supports the movement
of information
5) None of these
3. The ________________
data mining technique derives rules from real-world case examples.
1) rule discover
2) signal processing
3) neural nets
4) case-based reasoning
5) None of these
4. ________are used
to identify a user who returns to a Website.
1) Cookies
2) Plug-ins
3) Scripts
4) ASPs
5) None of these
5. Which of the
following objects is passed to a Java Bean when one of its properties is set
via a JSP action?
1) Servlet Request
2) Http Servlet Request
3) Servlet Response
4) Http Servlet Response
5) None of these
6. ________ symbol in
a flowchart shows the exact sequence in which instructions are executed.
1) Terminal
2) Connection
3) Flowline
4) Decision
5) Processing
7. IBM SP/2 belongs
to ________ generation computers.
1) first
2) second
3) third
4) fourth
5) fifth
8. ________ is the
protocol that supports linking from one web page to another page.
1) IP
2) FTP
3) PoP3
4) BGP
5) HTTP
9. To recover files
from a backup you perform ________ option.
1) scan
2) move
3) copy
4) restore
5) None of these
10. The internet
began with the development of ________
1) Ethernet
2) Internet
3) USENET
4) Extranet
5) ARPANET


Regards
Team ExamPundit
Sponsored

(adsbygoogle = window.adsbygoogle || []).push({});
Books For 2015 Banking/Insurance Exams