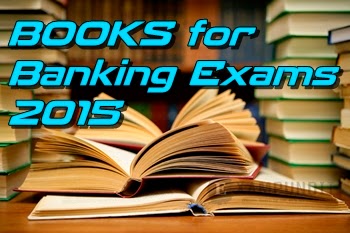 Hello and welcome to ExamPundit. So our group members have requested to share a list of important books for IBPS, SBI , RBI Banking Exams in 2015. Now first of all, who are not our group members kindly note down, if you don't like this post or the books we have given, you can share it in comments or mail us as this is Basically for the huge family of our facebook group.


Now lets get to the point.


IBPS has changed the format of examination but there is no hint of change in the syllabus. So keeping that in mind we have BOUGHT then Showed it to SENIOR BANK Employees and Respected Teachers in the field then we gave the link.


So basically we did not depend on the Reviews we found on the websites. Reviews can be misleading.

Reasoning: For reasoning we have suggested two Books. One which will cover everything, from SSC to UPSC to Banking and Another which is SPECIFICALLY For Banking.


Now, BSC Publications books may look dull but they are AWESOME!
Reasoning Book For Bank/SSC/UPSC 2015 –

Buy from Amazon.in

Reasoning Book for Specially Banking Exams 2015 –

Buy from Amazon.in

English Language: Now the English has been a troublesome subject for most of the aspirants so we decided to suggest ONE Book which will cover all your needs for the Banking Examinations.




Here is the English Book for Banking Exams 2015 –

Buy From Amazon.in
Quantitative Aptitude: There are tons of books regarding Quantitative Aptitude for Banking and frankly most of the are not Worthy Buying and A lot of confusing. We are suggesting 1 book which will be more than sufficient for IBPS PO, Clerk, SBI Clerk, SBI PO even RBI Grade B officer's Quantitative Aptitude section. For the DI questions we have suggested a separate book.


Quantitative Aptitude –
Buy From Amazon.in
Data Interpretation –

Buy From Flipkart

Buy From Amazon.in








Marketing/Computer/Banking Awareness: Although We give Marketing/Computer/Banking Awareness Materials still a Hard Copy of a well organized book is always necessary.


Marketing –
Buy from Amazon.in

Computer Knowledge –

Buy from Flipkart
Buy From Amazon.in
Banking Awareness –
Buy from Amazon.in





These books will be sufficient for preparing yourself for IBPS PO 2015, IBPS Clerk 2015, RBI Assistant, RBI Grade B, SBI Clerical and SBI PO.






Regards
Team ExamPundit