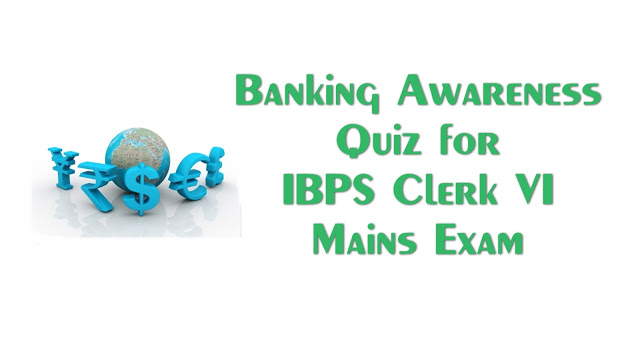 Hello and welcome to exampundit . Here is a set of Banking Awareness Quiz for IBPS Clerk VI Mains Exam 2017.
1. Which one of the following is an example for Long Term Investment Option?
1) Fixed deposit
2) Money market
3) Public provident fund
4) Saving accounts
5) None of these
2. How do we label the risk of collapse of an entire financial system or entire market?
1) Seismic Risk
2) Systemic Risk
3) Systematic Risk
4) Market Risk
5) None of these
3. How many parties primarily involved in a Promissory Note?
1) Two
2) Three
3) Four
4) Five
5) six
4. When two or more distinct insurance policies combined into a single contract, it is known as
1) CMO
2) Package Policy
3) Mortgage Insurance
4) Micro Insurance
5) None of these
5. A ________is a negotiable financial instrument issued by a bank to represent a foreign company's publicly traded securities.
1) depositary receipt
2) participatory notes
3) buyers' credit
4) cross listed stock
5) None of these
6. Identify the one which is NOT allowed in 'small accounts' opened with banks?
1) Withdrawal and transfers of Rs.10,000 in a month.
2) Credit of foreign remittances
3) Total credits in one year of Rs.1,00,000
4) All the above
5) None of these
7. Teaser Rates are related to which of the following types of loans?
1) Home Loans
2) Personal Loans
3) Auto Loans
4) Reverse Mortgage Loans
5) Crop Loans
8. Which of the following terms is not used in banking world?
1) Credit
2) Rate
3) Financial status
4) Discount
5) Absolute zero
9. Which of the following organisations provides credit history of the borrowers?
1) CIBIL
2) ARCIL
3) SEBI
4) RBI
5) CCIL
10. A universal bank does not undertake which of the following activities?
1) Investment Banking
2) Commercial Banking
3) Development Banking
4) Insurance
5) None of these
Click here for the other sets >
IBPS Clerk VI Mains Mock Series – 3 Full Mocks @ 75/- –
Click here
8 General Awareness & Computer Sectionals for IBPS Clerk VI mains
–
Click Here
5 Professional Knowledge Sectionals for IT Officers – SBI and IBPS –
Click Here
Download the Expected Questions for IBPS CLerk VI Mains –
Click here ⏎
Sponsored

(adsbygoogle = window.adsbygoogle || []).push({});
Regards
Team ExamPundit

EP Recommends: Practicemock Free Mock Tests