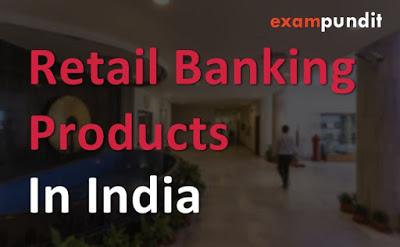 Hello and welcome to exampundit. Here are all the information we could arrange for Retail Banking in India. The topic was requested by Nitu.
What is Retail Banking?
Investopedia defines: Retail banking, also known as consumer banking, is the typical mass-market banking in which individual customers use local branches of larger commercial banks. Services offered include savings and checking accounts, mortgages, personal loans, debit/credit cards and certificates of deposit (CDs).
Retail Banking Products in India
ACCOUNTS
Current A/c: Current account is one of the two component accounts of the balance of payments of a nation. It records the trade of goods and services of an economy with other countries of the world.
Savings A/c: A savings account is one of the simplest types of bank accounts available to consumers, letting you store cash securely and earn interest on your money.
Salary A/c: It is usually opened by the Company, where your salary is deposited. You can maintain ZERO Balance.
Minor A/c: Minimum 10 years old to open this account.
Recurring A/c: It can be opened by any Individual for regular fixed amount every month into their Recurring Deposit account and earn interest at the rate applicable to Fixed Deposits.
Fixed or Term Deposits A/c: A type of savings account or certificate of deposit where deposits are made for a specified period of time and that pay out a fixed rate of interest.
Joint A/c: Can be opened by two or more individuals.
Basic Savings Bank A/c: Zero Balance A/c
Pension A/c: Zero Balance, usually opened for Pension purpose.
OTHER PRODUCTS
Bancassurance: Banks partners with Insurance Company to sell Insurance to Bank Customers. United Bank of India has with TATA Life Insurance.
Cheque: An order to a bank to pay a stated sum from the drawer's account, written on a specially printed form.
Demand Draft: A demand draft is a negotiable instrument similar to a bill of exchange. A bank issues a demand draft to a client (drawer), directing another bank (drawee) or one of its own branches to pay a certain sum to the specified party (payee). A demand draft can also be compared to a cheque.
Mobile Banking: Usually operated by Customer through their Tablets or Phones via Application By Bank. CANMOBILE is an Android/Windows/iOs App by Canara Bank.
M-Wallet: Prepaid wallet can be used for various payments.
Tele Banking: Banking done by calling up Bank's Toll-Free Number.
Safety Deposit Locker: To keep valuable items usually jewellery, important documents.
Foreign Inward Remittance: Transfers from foreign to Indian customer's account. Usually done by Wire Transfer.
CARDS
Debit Card
Credit Card
ATM Card
Travellers Card: Used for travelling abroad.
LOANS
Home Loan
Personal Loan
Pension Loan
Car Loan
Vehicle Loan
Loan Against Gold
Loan against Mortgage
Educational Loan
Online Products
Internet Banking
Bill Payments
Fund Transfer: NEFT, RTGS, IMPS
Tax Payments
Demat Account
Note: All the Banks does not have all products mentioned above.
If you have any update to add, please feel free to add in the comment!
Sponsored

(adsbygoogle = window.adsbygoogle || []).push({});
Regards
Team ExamPundit