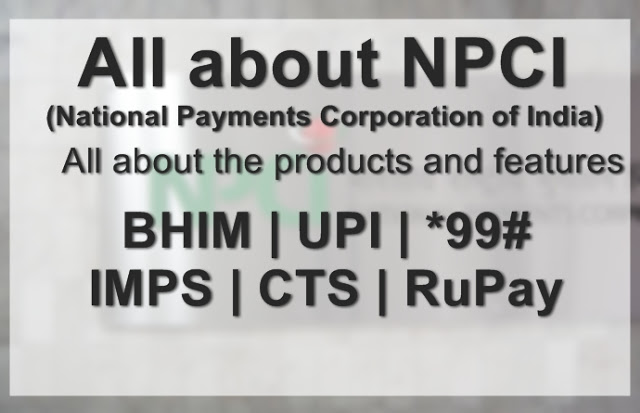 Hello and welcome to exampundit. Since Government is highly promoting the Digital & Cashless Economy, here is a detailed article on all about National Payments Corporation of India or NPCI and its products like UPI, BHIM app, IMPS, *99#. These are important for the Bank Exams as well as Bank Interviews.
National Payments Corporation of India
It is the umbrella organisation
for all retail payment systems in India, which aims to allow all Indian
citizens to have unrestricted access to e-payment services.
Presently, there are ten core promoter banks (State Bank of India,
Punjab National Bank, Canara Bank, Bank of Baroda, Union Bank of India, Bank of
India, ICICI Bank, HDFC Bank, Citibank and HSBC). The Board consists of
Balachandran.M as the chairman, Nominee from Reserve Bank of India and Nominees
from ten core promoter banks. Mr. A. P. Hota, is the managing director and
chief executive officer of NPCI.
The corporation service portfolio now and in the future include:
National Financial Switch (NFS) –
network of shared automated teller machines in India.
Unified Payment Interface (UPI) –
Single mobile application for accessing different bank accounts
BHIM App – Smartphone app built
using UPI interface.
Immediate Payment Service (IMPS)
– Real time payment with mobile number.
*99# – mobile banking using USSD
National Automated Clearing House
(NACH)- a web based solution to facilitate interbank, high volume, electronic
transactions
Cheque Truncation System -online
image-based cheque clearing system
Aadhaar Payments Bridge System
(APBS) – Aadhar based payment solution
RuPay – card scheme
Bharat Bill Payment System (BBPS)
– integrated bill payment system
National Financial Switch
National Financial Switch (NFS)
is the largest network of shared automated teller machines (ATMs) in India.
The first ATM in India was set up
in 1987 by HSBC in Mumbai. In the following twelve years, about 1500 ATMs were
set up in India. In 1997, the Indian Banks' Association (IBA) set up Swadhan,
the first network of shared ATMs in India.
The primary headquarters is
located at Mumbai.
NFS which is the largest domestic
ATM network in the country member banks has been in the fore front in providing
inter bank ATM services to maximum customers. Initially, the following basic
transactions were available in the NFS network
Cash Withdrawal
Balance Enquiry
PIN Change
Mini Statement
Unified Payments Interface (UPI)
Unified Payments Interface (UPI)
is a system that powers multiple bank accounts into a single mobile application
(of any participating bank), merging several banking features, seamless fund
routing & merchant payments into one hood. It also caters to the "Peer to
Peer" collect request which can be scheduled and paid as per requirement and
convenience.
With the above context in mind,
NPCI conducted a pilot launch with 21 member banks. The pilot launch was on
11th April 2016 by Dr. Raghuram G Rajan, Former Governor, RBI at Mumbai. Banks have
started to upload their UPI enabled Apps on Google Play store from 25th August,
2016 onwards.
UPI has built on the Immediate
Payment Service(IMPS) platform. UPI can be used for multiple common banking
tasks.
Important features:
Immediate money transfer through
mobile device round the clock 24*7 and 365 days.
Single mobile application for
accessing different bank accounts
Single Click 2 Factor
Authentication – Aligned with the Regulatory guidelines, yet provides for a
very strong feature of seamless single click payment.
Virtual address of the customer
for Pull & Push provides for incremental security with the customer not
required to enter the details such as Card no, Account number; IFSC etc.
Benefits for banks:
Single click Two Factor
authentication
Universal Application for
transaction
Leveraging existing infrastructure
Benefits for end Customers:
Round the clock availability
Single Application for accessing different bank accounts
Use of Virtual ID is more secure,
no credential sharing
Benefits for Merchants:
Seamless fund collection from
customers – single identifiers
No risk of storing customer's
virtual address like in Cards
Tap customers not having
credit/debit cards
BHIM
BHIM (Bharat Interface for Money) is a Mobile App developed by National
Payments Corporation of India (NPCI), based on the Unified Payment
Interface (UPI). It was launched by Narendra Modi, at a Digi Dhan programme at
Talkatora Stadium in New Delhi on 30 December 2016. It has been named after Bhim Rao Ambedkar and is intended to
facilitate e-payments directly through banks and as part of the 2016 Indian
banknote demonetisation and drive towards cashless transactions.
Benefits of BHIM:
BHIM allow users send or receive
money to other UPI payment addresses or scanning QR code or account number with
IFSC code or MMID (Mobile Money Identifier) Code to users who do not have a UPI-based
bank account.
BHIM allows users to check
current balance in their bank accounts and to choose which bank account to use
for conducting transactions, although only one can be active at any time.
Users can create their own QR
code for a fixed amount of money, which is helpful in merchant — seller — buyer
transactions.
They can also have more than one
payment address.
*99#
One of the innovative payment service launched by NPCI includes *99#
service, which works on Unstructured Supplementary Service Data (USSD) channel.
This service was launched envisioning the potential of Mobile Banking and the
need for immediate low value remittances which will help in financial deepening
and inclusion of underbanked society in the mainstream banking services. *99#
service was dedicated to the nation by the Honorable Prime Minister of India
Shri Narendra Modi on 28th August 2014 as part of Pradhan Mantri Jan Dhan
Yojana (PMJDY).
Features of *99# Service
Works without Internet – Uses
voice connectivity
Round the clock availability
(works even on holidays)
Accessible through a common code
*99# across all TSPs
Works across all GSM service
providers and mobile handsets
Additional channel for banking
and key catalyst for financial inclusion
Service also offered through BC
Micro ATMs to serve the rural populace
IMPS
Immediate Payment Service (IMPS)
is an instant real-time inter-bank electronic funds transfer system of India.
IMPS offers an inter-bank electronic fund transfer service through mobile
phones. Unlike NEFT and RTGS, the
service is available 24/7 throughout the year including bank holidays.
IMPS offers an instant, 24X7,
interbank electronic fund transfer service through mobile phones. IMPS is an
emphatic tool to transfer money instantly within banks across India through
mobile, internet and atm which is not only safe but also economical both in
financial and non financial perspectives.
This facility is provided by NPCI through its existing NFS
switch.
Objectives of IMPS
To enable bank customers to use
mobile instruments as a channel for accessing their banks accounts and remit
funds
Making payment simpler just with
the mobile number of the beneficiary
To sub-serve the goal of Reserve
Bank of India (RBI) in electronification
of retail payments
To facilitate mobile payment
systems already introduced in India with the Reserve Bank of India Mobile
Payment Guidelines 2008 to be inter-operable across banks and mobile operators
in a safe and secured manner
To build the foundation for a
full range of mobile based Banking services.
National Automated Clearing House (NACH)
Started by the National Payments
Corporation of India (NPCI), NACH aims
to create a better option for facilitating clearing services than the existing
Electronic Clearing Service (ECS) system.
NACH is a centralised, web-based
clearing service that can ease the work of banks, financial institutions, the
government and corporates by consolidating all regional ECS systems into one
national payment system, thereby removing any geographical barriers in
efficient banking.
The service is now active in all
Indian banks with core banking facility. It comes in two variants – ECS Credit
and ECS Debit. The significant benefits to bank customers include automatic
debits from their account for bill payments (telephone, electricity, etc), loan
instalments, insurance premiums and more.
Not only this, NACH is useful for
corporate and financial institutions that make payments in bulk like dividends
distributions, salaries, interests, pensions, etc.
The process of activation of ECS
mandates had a longer turnaround time (30 days) than what it is expected to be in NACH (10 days). Also, the
Aadhar-based benefit transfers have been simplified.
There are four types of
electronic clearing services:
Local ECS
Regional ECS
National ECS
NACH
While the Local ECS, Regional
ECS, National ECS are controlled by the Reserve Bank of India or by the
designated commercial banks, NACH functions on all India platforms managed by
the National Payments Corporation of India (NPCI).
Cheque Truncation System (CTS)
Cheque Truncation System (CTS) or
Image-based Clearing System (ICS), in India, is a project of the Reserve Bank
of India (RBI), commencing in 2010, for faster clearing of cheques.
CTS is based on a cheque
truncation or online image-based cheque clearing system where cheque images and
magnetic ink character recognition (MICR) data are captured at the collecting
bank branch and transmitted electronically.
The Reserve Bank of India first
implemented CTS in National Capital Region, New Delhi from 1 February 2008 with
ten pilot banks and the deadline was set as 30 April 2008 for all the banks.
Banks derive multiple benefits
through the implementation of CTS, like a faster clearing cycle meaning
technically possible realization of proceeds of a cheque within the same day.
It offers better reconciliation/ verification, better customer service and
enhanced customer window.
Customer satisfaction is
enhanced, due to the reduced turn around time (TAT). It also offers better
reconciliation and fraud prevention.
Aadhaar Payments Bridge System (APBS)
In order to further speed track
Financial Inclusion in the country, Two Working Group were constituted by RBI
on MicroATM standards and Central Infrastructure & Connectivity for Aadhaar
based financial inclusion transactions with members representing RBI, Unique
Identification Authority of India, NPCI, Institute for Development and Research
in Banking Technology and some special invitees representing banks and research
institutions.
The working group on MicroATM
standards & Central Infrastructure & Connectivity has submitted its
report to RBI. As a part of the working group it was proposed to conduct a Lab
level Proof of concept (PoC), integrating the authentication & encryption
standards of UIDAI, to test the efficacy of MicroATM standards and transactions
using Aadhaar before they are put to actual use. The PoC was successfully
demonstrated at various venues.
AEPS is a bank led model which
allows online interoperable financial inclusion transaction at PoS (MicroATM)
through the Business correspondent of any bank using the Aadhaar
authentication.
Important Objectives
To empower a bank customer to use Aadhaar as his/her identity to access his/ her respective Aadhaar enabled
bank account and perform basic banking
transactions like balance enquiry, Cash deposit, cash withdrawal, remittances that are intrabank or interbank
in nature, through a Business
Correspondent.
To sub-serve the goal of
Government of India (GoI) and Reserve Bank of India (RBI) in furthering
Financial Inclusion.
To sub-serve the goal of RBI in
electronification of retail payments.
To enable banks to route the
Aadhaar initiated interbank transactions through a central switching and
clearing agency.
RuPay
RuPay is an Indian domestic card
scheme conceived and launched by the National Payments Corporation of India
(NPCI).
RuPay also provides a unified
"Kisan Card", issued by
banks across the country under Kisan Credit Card, enabling farmers to transact
business on ATMs and PoS terminals.
NPCI has rolled out its chip card
for high security transactions using EMV
(Europay, MasterCard and Visa) chip technology, which is a global standard
for debit and credit cards.
Bharat Bill Payment System
Bharat Bill Payment System (BBPS)
is an integrated bill payment system in India offering interoperable and
accessible bill payment service to customers through a network of agents,
enabling multiple payment modes, and providing instant confirmation of payment.
National Payments Corporation of India (NPCI) will function as the
authorized Bharat Bill Payment Central Unit (BBPCU), which will be responsible
for setting business standards, rules and procedures for technical and business
requirements for all the participants.
The Committee headed by Former RBI Executive Director G.
Padmanabhan was set up in 2013 to study the feasibility of implementation
of Giro based Payment Systems.
Sponsored

(adsbygoogle = window.adsbygoogle || []).push({});
Regards
Team ExamPundit