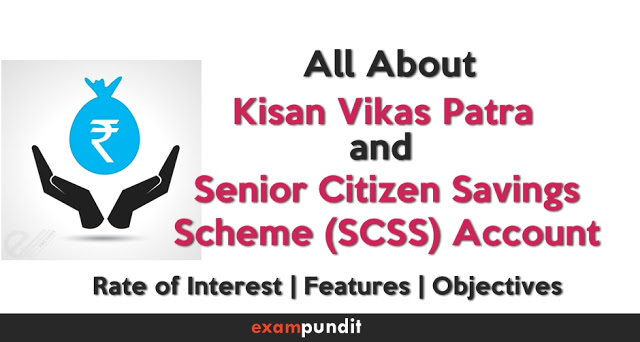 Hello and welcome to exampundit. Here are the list of all the important features, rate of Interest and objectives of Kisan Vikas Patra and Senior Citizen Savings Scheme Account.
Kisan Vikas Patra
Kisan Vikas Patra (KVP) is a
saving instrument launched by the Government for individual savers, wherein
invested money doubled during the maturity period. This savings scheme was
first launched by the Government on 1 April, 1988 and was distributed through
post offices. It was discontinued in 2011 and later reintroduced in 2014.
Rate of Interest of KVP as of 20 January 2017 is 7.7%.
Highlights of Kisan Vikas Patra
KVP is considered a part of the National Small Savings Fund.
The amount invested in Kisan
Vikas Patra would get doubled in 112
months or nine years and four months.
Kisan Vikas Patra (KVP) certificates are available to the investors
in the denomination of Rs. 1000, 5000,
10,000 and 50,000.
The certificates can be issued in
single or joint names and can be transferred from one person to any other
person / persons, multiple times.
The minimum amount that can be invested is Rs 1000. However, there is no upper limit on the purchase of
KVPs.
KVP is not a tax saving instrument as it does not offer any income
tax exemption.
The amount of KVP can be withdrawn after 100 months (8 years and 4
months).
The maturity period or lock-in
period of a KVP is 2 years 6 months(30
months).
Reintroduction of Kisan Vikas Patra (KVP) was to provide a safe and
secure investment avenue to the investors so as to help in augmenting the savings rate in the country.
The scheme is also aimed at safeguarding investors from fraudulent
schemes, considering the number of ponzi
schemes that have surfaced particularly after the closure of KVP.
Senior Citizen Savings Scheme (SCSS) Account
Designated for individuals above
the age of 60, the Saving Schemes for senior citizens in India are effective,
long term saving options and offer unmatched security and features that are
usually associated with any government sponsored savings program.
Rate of Interest of Senior
Citizen Savings Scheme (SCSS) Account as of 20 January, 2017 is 8.5%.
Highlights of Senior Citizen Savings Scheme (SCSS) Account
An individual of the Age of 60 years or more may open the
account.
An individual of the age of 55 years or more but less than 60 years who
has retired on superannuation or under VRS can also open account subject to
the condition that the account is opened within one month of receipt of
retirement benefits and amount should not exceed the amount of retirement
benefits.
Maturity period is 5 years.
After maturity, the account can
be extended for further three years within one year of the maturity by giving
application in prescribed format.
There shall be only one deposit
in the account in multiple of INR.1000/-
maximum not exceeding INR 15 lakh.
Account can be opened by cash for the amount below INR 1 lakh and
for INR 1 Lakh and above by cheque only.
Premature closure is allowed
after one year on deduction of an amount equal to1.5% of the deposit &
after 2 years 1% of the deposit.
TDS is deducted at source on
interest if the interest amount is more than INR 10,000/- p.a.
Sponsored

(adsbygoogle = window.adsbygoogle || []).push({});
Regards
Team ExamPundit

EP Recommends: Practicemock Free Mock Tests