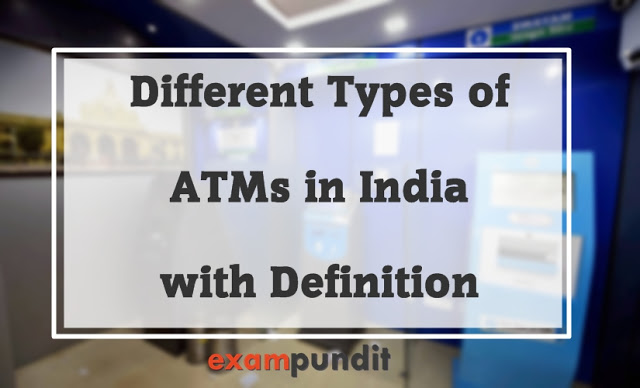 Hello and welcome to exampundit. So we will be sharing information on all the Banking Awareness topics for the upcoming Bank Exams and Interviews. We are kicking of with All Types of ATMs and Their Definitions.
Different Types of ATMs in India
Bank ATMs: The ATMs which are Owned, Managed, Installed by Banks. The most common, you see in the Bank Branch building.
Brown-Label ATMs: Now, Brown-Label ATMs are little different from Bank ATMs. They are outsourced to a company, who manages, installs and look after the ATMs. However, these ATMs has a Logo of the Bank in it, which makes sure, that ATM is installed by the Bank. Mostly these were used by Private Sector Banks in India.
Some of the High-Tech Brown-Label ATMs swallows the Card till the transactions are over. You can check them out in metro cities under various famous banks like, Standard Chattered, HDFC, Yes Bank, ICICI Bank.
White-Label ATMs: White-Label ATMs are similar to Brown-Label ATMs except the fact, they don't have any Bank Logo in them. Now, Tata Indicash, currently famous WLATM, do have a logo of Indicash in it. Now, if they don't have anything written in them, then how will we understand its a ATM? Isn't it? Also WL-ATMs has Advertisements which Brown-Label or Bank ATMs NEVER HAD.
Cash Dispenser: Allows only cash withdrawls,balance enquiry and mini statement requests, cash dispenser(CD) is generally used as the ATM,however the customer cannot deposit cash or cheques in a CD, wherear, they can use ATM both for cash withdrawl and for depositing cash or cheque.
Mobile ATM: Refers to an ATM that moves in various areas for the customers. Few priavte banks have introduced ATM on wheels.
Onsite ATMs: Onsite ATMs are the ATMs we see with the Branch Building. When you get into HDFC or SBI, you will often see ATMs. These are Onsite ATMs.
Offsite ATMs: Offsite ATMs are the ATMs we see in some separate house/building. These ATMs are not attached to the bank branch building but in the areas of Bank Branch.
Stand Alone ATMs: Stand-alone ATMs are similar to Offsite ATMs except the fact, they are just the Machines and Nothing Else. Now where do we see them? We usually go to Supermarkets or Shopping Malls, and we notice ATMs. They are the most common example of Stand-Alone ATMs.
Micro ATM:
A point of sale terminal which is used specifically for withdrawal of money. So in one line, a PoS terminal where you can swipe your debit/ATM card to take cash from the authorized agent is called Micro ATM. T
he micro ATM cards are issued to the customers of Aadhar- linked bank accounts
. A host computer is connected or communicated via unique mobile handset allied with
GPRS network to several micro ATM machines
.
Banks have firmed up the upper limit on withdrawals at micro automatic teller machines (ATMs) at Rs 10,000 as part of rules governing small transactions, especially under financial inclusion. They will levy an interchange fee of Rs 2 for withdrawal up to Rs 2,000 per transaction.
With the advent of technology the Micro- ATMs connect bank customers of rural areas who are far away from the branches. The Micro ATMs run on GSM or GPRS (an upgrade to GSM) connectivity and therefore they are portable. The operator (BC) can carry the Micro ATM from one village to another at set times. Even shop-keeper can simultaneously work as a Business Correspondent (BC) and keep the terminal in his shop.
Benefits of ATM
The benefit of ATMs for customers are:
Provide 24×7 and 365 days a year service.
Offer quicker and efficient service.
Allow privacy in transactions
Are error free
The benefits of ATM for banks are:
Is an alternative to extend banking hours
Is cheaper if transaction are large in number,thereby,reducing footfall at the branches
Is an alternative to opening new branches
Reduces the operating expenses of the bank
Helps banks to avoid transportation of cash and cash handling employees
Can be located in any convenient location in any form as wall unit,lobby unit or a window unit.
Increase market penetration
Relieve the bank employees from routine transactions so that they can focus more on analytical and innovative work
Enables bank officials to up-sell or cross-sell either same products or different products
Transaction Limits
Transactions at a bank's own ATMs at any location: Banks must offer their savings bank account holders a minimum of five free transactions (including both financial and non-financial) in a month, irrespective of the location of ATMs.
Transactions at any other banks' ATMs at Metro locations: In case of ATMs located in six metro locations, viz. Mumbai, New Delhi, Chennai, Kolkata, Bengaluru and Hyderabad, banks must offer their savings bank account holders a minimum of three free transactions (including both financial and non-financial transactions) in a month.
Transactions at any other banks' ATMs at Non-Metro locations: At other locations, banks must offer the savings bank account holders a minimum of five free transactions (including both financial and non-financial transactions) in a month at other bank ATMs.
RBI has mandated only the minimum number of free transactions at ATMs. Banks may offer more number of transactions free of cost to their customers.
The above does not apply to Basic Savings Bank Deposit Accounts (BSBDA) as withdrawals from BSBDA are subject to the conditions associated with such accounts.
Fine in case of Failure:
Effective from July 1, 2011, banks have to pay compensation of Rs. 100/- per day for delays in re-crediting the amount beyond 7 working days from the date of receipt of complaint for failed ATM transactions.
The compensation has to be credited to the account of the customer without any claim being made by the customer. If the complaint is not lodged within 30 days of transaction, the customer is not entitled for any compensation for delay in resolving his / her complaint.
First Bank to Introduce ATM in India: HSBC
First NBFC to launch White Label ATMs: Tata Communication Payment Solution Limited under the brand "Indicash".
First Mobile ATM in India: ICICI Bank – "ATM on Wheels"
First Micro ATM in India: Axis Bank
India's first Aadhaar based ATM: DCB Bank
India's first "talking" ATM
launched by Union bank of India for visually impaired, was launched in Ahmadabad (Gujarat)
The national payments corporation of India (NPCI) launches India's first rural bank ATM card with a regional rural bank in Varanasi.
CONTRIBUTORS:
1. Nitu Pareek
Click here for the Banking Awareness 2017 Page (COMING SOON)
Sponsored

(adsbygoogle = window.adsbygoogle || []).push({});
Regards
Team ExamPundit