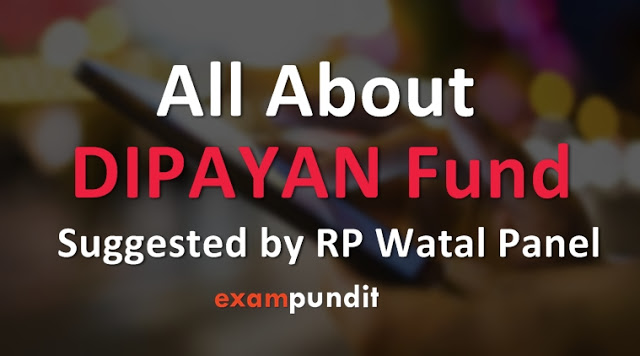 Hello and welcome to exampundit. A few days ago, RP Watal Panel suggested the creation of DIPAYAN Fund. So here are all the information we could gather for you on the same. This will be very helpful for the upcoming examinations and interviews.
In the report of the committee led by Ratan P. Watal, it was
recommended that in the upcoming Union Budget 2017-18, a new Digital Payments Incentive Fund should be created, resourced from the savings generated by the Central
Government from the movement towards less cash.
This may be called DIPAYAN or Digital Payments Action Network, also
meaning light of a lamp.
Using the trinity of JAM (Jan Dhan, Adhaar, Mobile) it will link
financial inclusion with social protection, contributing to improved Social and
Financial Security and Inclusion of vulnerable groups/ communities.
This fund could be used to target
public education about digital payments, incentivise higher usage of digital
payments among socially and financially excluded, and help improve equitable
outreach to women through women's self-help groups, MGNREGA, outreach through
women teachers, women ICDS and NHM functionaries, digital coupons in government
co-operative store or fair price shops, extending additional seed capital to
women's self help groups, priority digital cards for skill development etc.
The Government should set in
place a mechanism, both at national and state level, to regularly track the
cost of handling cash and the cost of transitioning into digital payments.
Accordingly, it should regularly
quantify the savings that will accrue by fully transitioning into digital
payments and consider providing subsidy for such transitioning accordingly.
It would be in existence over the
medium term, for a period of 3 years.
The Fund would be used to –
i. Promote
public education and acceptance of digital payments, as well as changing
expenditure related habits.
ii. This could
be by incentivising extension and greater usage of Jan Dhan Yojana Accounts for
digital payments, above certain threshold levels, by more vulnerable
communities/ individuals. These would include those living below the poverty
line, SC, ST, minorities, people with disabilities, people living in remote
areas with no banking access, areas with connectivity problems, areas affected
by natural calamities etc.
iii.
Government payments and receipts: An incentive in the form of cash back or a
discount on price, funded by the above fund may be introduced for payment of
government services and public utilities through digital means.
iv. Support
POS based acceptance in certain sectors. The Government may evaluate the
feasibility of supporting growth of this infrastructure for promoting digital
payments in sectors like health services.
v. Different
states are at different threshold levels of digital payments, with a differing
spread and mix of vulnerable groups. The overall monitorable target should be
specified at national level and State level.
vi. In
addition, the fund should be used for funding innovative solutions to adopt
digital payments. This should be available to all market participants.
Sponsored

(adsbygoogle = window.adsbygoogle || []).push({});
Regards
Team ExamPundit