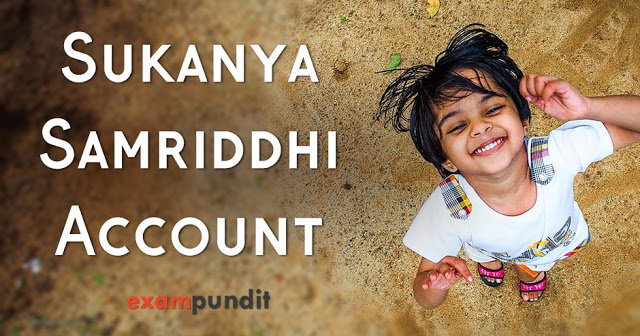 Hello and welcome to exampundit. Sukanya Samriddhi Account stays in news throughout the year. Mainly due to the changing interest rates. So we are giving 15 Important Points for Sukanya Samriddhi Account along with the Current Interest Rate as of 20 January, 2017.
The scheme was launched by Prime Minister Narendra Modi on 22 January 2015 as a part of the Beti Bachao, Beti Padhao campaign.
The scheme currently (1 October 2016 to until now) provides an interest rate of 8.5% (for FY2016-17) and tax benefits.
Sakshi Malik is the brand ambassador of Beti Bachao, Beti Padhao campaign in Haryana.
15 Important Points to Remember about Sukanya Samriddhi Account:
The scheme encourages parents to build a fund for the future education and marriage expenses for their female child.
The account can be opened at any
India Post office or branch of authorised commercial banks.
The account may be opened by the
natural or legal guardian in the name of a girl child from the birth of the girl child till she attains the age of ten
years and any girl child.
Natural or legal guardian of a
girl child shall be allowed to open the
account for two girl children only. (In case of Twins, three accounts are
allowed)
The account can be transferred to
anywhere in India.
A minimum of ₹1,000 must be
deposited in the account annually.
The maximum deposit limit is ₹150,000.
If the minimum deposit is not
made in a year, a fine of ₹50 will be levied.
The girl can operate her account after she reaches the age of 10.
The account allows 50% withdrawal at the age of 18 for higher education purposes.
The account reaches maturity at the age of 21.
If the account is not closed, then it will not earn interest at the
prevailing rate.
No interest shall be payable once
the Account completes twenty-one years
from the date of its opening.
If the girl is over 18 and
married, normal closure is allowed.
The Account may be transferred
anywhere in India and from or to post offices and from or to Banks and between
post office and Bank, free of cost on furnishing of proof of shifting of
residence of either the guardian or the Account holder and otherwise, on payment
of a fees of one hundred rupees to the
post office or the Bank to which the transfer is made.
Sponsored

(adsbygoogle = window.adsbygoogle || []).push({});
Regards
Team ExamPundit