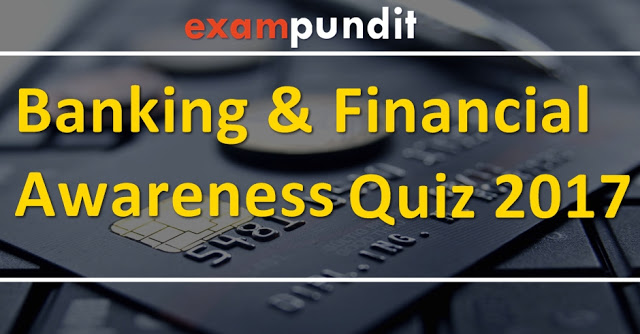 Hello and welcome to exampundit. Here is a third set of Banking and Financial Awareness Quiz for the Bank Exams in 2017. The following questions are important for the upcoming Syndicate Bank and Indian Bank PGDBF 2017.
1. NEFT and RTGS in banking terminology speaks of
a) various deposit products
b) various loan products
c) electronic payment products within a bank
d) electronic fund transfer from bank to bank
e) cheque truncation process
2. Each of the RRBs covers districts ranging from
a) 1 to 15
b) 2 to 25
c) 3 to 25
d) 2 to 15
e) 1 to 5
3. As per news in various newspapers, 'kfw' Group released
another instalment of its financial aid to India. Kfw is an organisation/bank
based in
a) France
b) Japan
c) Italy
d) China
e) Germany
4. Crossing of cheques makes them
a) invalid document
b) ineligible to endorse to person other than payee
c) remain the same in all respect, it is only a practice
d) eligible for payment irrespective of sufficient balance
in the account
e) Ineligible to get cash across the bank counter
5. When a bank dishonours a cheque,
a) it is called settlement of the cheque
b) it is called withdrawing of the cheque
c) it is called nullifying of the cheque
d) it is called truncating of the cheque
e) it is called return of the cheque unpaid
6. In a bank which of the following are the usual types of
Deposits accounts?
a) Savings A/c, Electricity A/c and Insurance Premium A/c
b) Fixed Deposits, Post office savings bank A/c and current
deposit accounts
c) Current A/c, Savings Bank A/c and Term deposit a/c
d) Loan accounts, Savings bank A/c and term deposit accounts
e) Current Bill A/c and Term Deposit A/c
7. Which of the following cannot be called as a value added
service offered by bank?
a) Special accounts for the poor section of the society
b) Accident insurance cover
c) Instant credit of outstation cheques
d) Free cheque books
e) All of these
8. An account in which trading of shares in their electronic
form is done, is known as
a) D-Mat Account
b) NRI Account
c) NRIO Account
d) Current Account
e) None of the above
9. Mortgage is a security created on
a) movable property for a loan given by a bank
b) immovable property for a deposit received by a bank
c) a confirmation of immovable property given by a bank
d) movable property for a deposit given by a bank
e) immovable property for a loan given by a bank
10. A savings Bank Account opened with a commercial bank
with zero balance or very minimal balance is known as
a) Savings bank ordinary account
b) Student savings bank account
c) No-Frill Account
d) Current Account
e) Call Deposit
Answers:
d) electronic fund transfer from bank to bank
b) 2 to 25
e) Germany
b) ineligible to endorse to person other than payee
it is called return of the cheque unpaid
c) Current A/c, Savings Bank A/c and Term deposit a/c
b) Accident insurance cover
a) D-Mat Account
e) immovable property for a loan given by a bank
c) No-Frill Account

Recommended Test Series– Click Here
Sponsored
googletag.cmd.push(function() { googletag.display('div-gpt-ad-1487064173474-0'); });
Regards
Team ExamPundit
Average rating / 5. Vote count:

EP Recommends: Practicemock Free Mock Tests