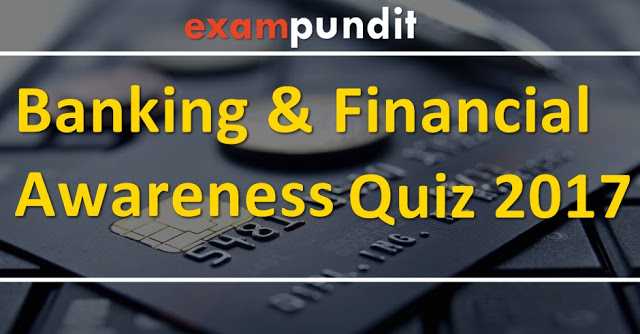 Hello and welcome to exampundit. Here is a first set of Banking and Financial Awareness Quiz for the Bank Exams in 2017. The following questions are important for the upcoming Syndicate Bank and Indian Bank PGDBF 2017.
1. Under which section of the RBI Act, the RBI has the sole
right of note issue?
a) Section 20
b) Section 22
c) Section 25
d) Section 28
e) Section 30
2. In which year did the Insurance Regulatory and Development
Authority of India came into force?
a) 1999
b) 2000
c) 2001
d) 1991
e) 1993
3. Under which section of the RBI Act, mentions the right to
recover of notes lost, stolen, mutilated or imperfect?
a) Section 28
b) Section 21
c) Section 28
d) Section 24
e) Section 35
4. SWIFT is a network for banks to exchange information. What
does S stands for in SWIFT?
a) System
b) Secured
c) Securities
d) Society
e) Standard
5. The foreign Exchange rate is dependent on which of the
following?
a) Government Policies
b) Monetary Policy Directives
c) Demand and Supply Forces
d) Foreign Exchange Reserves
e) None
6. Who decides on the value and volume of bank notes to be
printed and on what basis?
a) Reserve Bank of India
b) Stock Exchange
c) NITI Aayog
d) Finance Ministry
e) Union Government
7. Inflation is measured in India on the basis of which
Index?
a) Consumer Price Index
b) Whole Sale Price Index
c) Retail Price Index
d) Market forces
e) None
8. The SDR is an international reserve asset, created by the
a) Asian Development Bank
b) Federal Reserve
c) United Nations
d) International Monetary Fund
e) World Trade Organisation
9. In case of a debt taken by a married woman, her husband
a) shall be liable if the debt is taken after her marriage
b) shall be liable if the loan is taken with his consent or
authority
c) shall never be liable in any conditions
d) Both 1 and 2
e) None
10. Which of the following lendings qualifies as a priority
sector loan?
a) Loan for purchase of gold or diamond ornament for
daughter's marriage
b) Loan for white goods
c) Loan for House improvement or new house
d) Loan for purchase of tractor
e) Both 2 and 4
Answers:
b) Section 22
a) 1999
c) Section 28
d) Society
c) Demand and Supply Forces
a) Reserve Bank of India
a) Consumer Price Index
d) International Monetary Fund
b) shall be liable if the loan is taken with his consent or authority
d) Loan for purchase of tractor
For the previous set – CLICK HERE

Recommended Test Series– Click Here
Sponsored
googletag.cmd.push(function() { googletag.display('div-gpt-ad-1487064173474-0'); });
Regards
Team ExamPundit