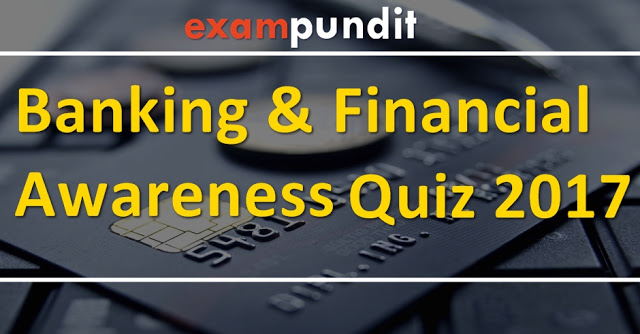 Hello and welcome to exampundit. Here is the very first set of Banking and Financial Awareness Quiz for the Bank Exams in 2017.
1. Credit Risk refers to the risk that
a) A borrower will default on any type of debt
b) Wrong strategy is adopted
c) Borrower may opt to get necessary permit/licenses
d) Loan processing may be faulty
e) Interest rate in the markets may increase
2. Which of the following complaints is invalid in Banking
Ombudsman Scheme:
a) Refusal to close or delay in closing the accounts
b) Non-acceptance, without sufficient cause, of coins
tendered and for charging of commission for this service
c) Non-payment or delay in payment of inward remittances
d) Closure of account without customer concern
e) None of them
3. The Fair Practice Code for Credit Card Operations is the
banking industry has been evolved by
a) Indian Banks' Association (IBA)
b) Banking Ombudsman (BO)
c) Reserve Bank of India (RBI)
d) Banking Codes and Standards Board of India (BCSBI)
e) None of them
4. A mutual fund scheme in which the investors commit their
money for a particular period is known as
a) Long-End Scheme
b) Closed-End Scheme
c) Back-End Scheme
d) Open-End Scheme
e) Long-Term Fund
5. Which of the following factors do the commission takes into
account in formulating Minimum Support Price?
a) Cost of production
b) Changes in input prices
c) Input-output price parity
d) Trends in market prices
e) All of them
6. A Kiosk bank account has the limit of maximum transactions
per day
a) Rs 25000
b) Rs 15000
c) Rs 10000
d) Rs 20000
e) Rs 5000
7. A Kiosk Bank Account can have a maximum balance of
_______
a) 50000 rupees
b) 1 Lakh rupees
c) 75000 rupees
d) 25000 rupees
e) 2 lakhs rupees
8. Which of the following sections of Banking Regulation Ac
1949 directs Restriction on loans and advances?
a) 24
b) 20
c) 18
d) 25
e) 16
9. The viability of a primary credit society implies?
a) To appoint a full-time paid secretary
b) To constitute reserves on the scales considered necessary
and to pay a reasonable dividend on capital
c) Its ability to setup a regular office of its own
d) All of the above
e) None of the above
10. The common feature of the agricultural credit societies
in the country is that_________.
a) Only small and marginal farmers are their members
b) The persons living in cities and town are their members
c) The agriculturists are their members
d) All of these
e) None of these
Answers:
a) A borrower will default on any type of debt
a) Refusal to close or delay in closing the accounts
d) Banking Codes and Standards Board of India (BCSBI)
b) Closed-End Scheme
e) All of them
c) Rs 10000
a) 50000 rupees
b) 20
d) All of the above
c) The agriculturists are their members
Sponsored

(adsbygoogle = window.adsbygoogle || []).push({});
Regards
Team ExamPundit
Average rating / 5. Vote count:

EP Recommends: Practicemock Free Mock Tests