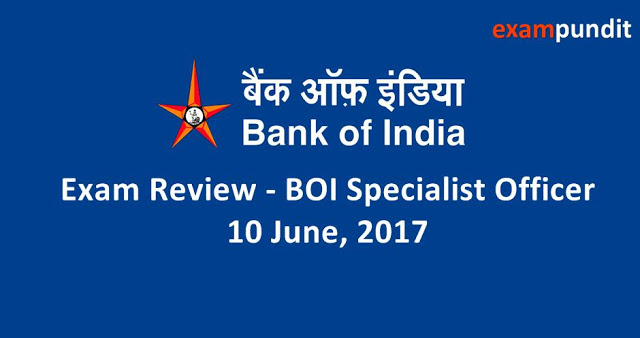 Hello and welcome to exampundit. Here is the Bank of India Specialist Officer(finance) exam review which was held on 10 June, 2017.
Exam had three sections- English, CA with special reference to Banking and Financial Management.
Each section had 50 questions of 1 mark each so total 150 questions = 150 marks
No time allotment. Composite time of 2 hours.
English-
One Rc which was based on effect of music on consumers while shopping out dining.
One parajumble.
Cloze test 10 questions based on money being used as the determinant for measuring GDP and all
Phrase correction and Error.
English was of qualifying nature
CA-
50 questions- some of the questions are
1. Srisalim Dam on which river
2. ECS regulated by
3. Airtel started airtel payments bank with investment of
4. Which is not a regulatory body in India- IRDA, PFRDA, SEBI, RBI, BCSBI
5. Bank which has entered in list of Top 50 banks based on asset size.
6. Vadodara is located on which river
7. Headquarters of few banks
8. PM of france
9. Bilateral exercise between India nd Indonesia held at
10. Mission 41k launched by
Financial Management had direct questions and few sums based on Ratios, EOQ, Yield and Turnover.
Questions were from topics- Cost of Capital, Working Capital, Accounting standards, Capital budgeting, etc.
Sponsored

(adsbygoogle = window.adsbygoogle || []).push({});
Regards
Team ExamPundit

EP Recommends: Practicemock Free Mock Tests