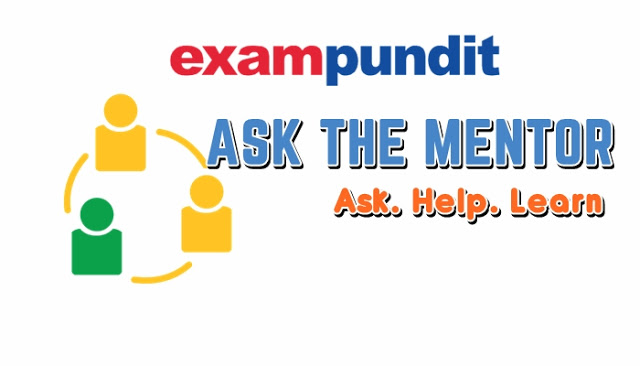 Hello and welcome to exampundit . Here is the Daily Page where you can ask any question related to your Exam, Materials, Career or anything.

If you have any query regarding our Materials, Exam preparation Tip or any Unresolved Problems(which are not copied from other portals), just drop it in the comment box.






CLICK HERE FOR IBPS PO PRELIMS MOCK TEST >>


In case you have answers for someone else's query, please resolve it asap.

Mentor from exampundit [SSC] – S Dixit
Mentor from exampundit: Anubhab
Mentor from exampundit: Gaurav Monga
Mentor from Aspirants: the fighter
Mentor from Aspirants: Baahubali
Mentor from Aspirants: Chitrarth
Mentor from Aspirants – Optimus Prime
Nisha Gautam still and will be a Mentor 🙂
Rules for Ask The Mentor Page (In short ATM Page):
1) The first one to Comment Good Morning, he/she shall be replied with a greeting. No need to post new comments as Good Morning.
2) If you want to share something,
↳ a) if it is not lengthy, post there in ATM Page
↳ i) Make sure it is not a quote or story
b) if it is a long passage, mail us at [email protected]
3) If there are no results coming up(major ones), no need to share quotes and increase comments. How you help, is what really matters not how many quotes you are sharing
4) You can Chat in ATM Page only if you
↳(a) Help everyone in the page
(b) Participate in Quiz on a Regular Basis
(c) Contribute by providing helpful materials
5) Everyone here is hoping to have a peaceful job to settle his/her career, so HELP EACH OTHER rather than Motivating.
Regards
Team ExamPundit
We are sorry that this post was not useful for you!
Let us improve this post!
Tell us how we can improve this post?
EP Recommends: Oliveboard Mock Tests