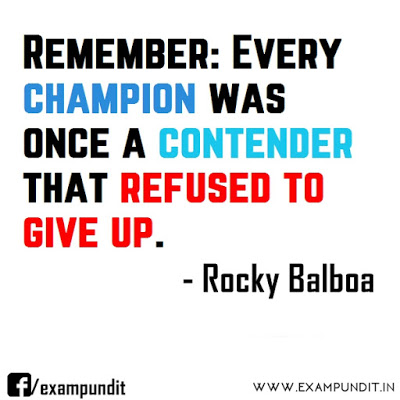 Hello and welcome to ExamPundit. This is Anubhab. I have been offline for past 2-3 days and
Exampundit was also bit out of track for few days. Its simply because something
HUGE is coming your way. But that's not the main point here.
The reason Exampundit did not give any Good Quiz in the last
2-3 days so that you all don't get demotivated and feel stressed.
Tomorrow is the BIG DAY and I am damn sure you all gonna
rock!!
You have cleared the Prelims Exam which means you HAVE
EARNED your SPOT for the Mains Exam. So just go for it and give it.
I know each and everyone of you have gone through a lot but
never gave up. Trust me, you all will succeed. Just don't stress yourself by
thinking too much. Go with the flow and GIVE YOUR BEST SHOT EVER.
All the best.
May the Force be with You


Regards
Anubhab
Sponsored

(adsbygoogle = window.adsbygoogle || []).push({});
Books For 2015 Banking/Insurance Exams