Hello and welcome to ExamPundit. We earlier started Essay Contest and while reviewing we noticed some most common mistakes in Descriptive Tests. So we decided to list them up to help you score better, and faster!
1. Spelling
Mistakes:
The most common, the most brutal. It totally decreases your
chances. Do practice a lot. Typing more and more will help you to overcome the
spelling mistakes. Also, don't use the SMS language in Descriptive Test. That
is not at all a valid form. Don't use, 2-3, Wed, Thur in your essay. Use two,
three, Wednesday, Thursday, like this.
2.
Punctuation: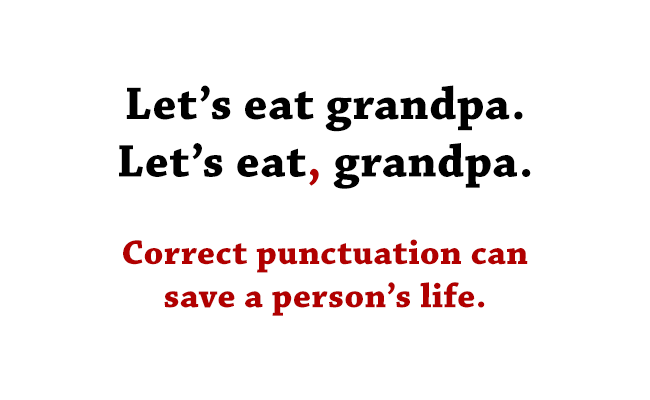 The above image is the ultimate example, why punctuation is
so important. The punctuation is necessary as it can easily change the meaning
of a sentence.
3.
Construction of Sentences:
Improper construction of sentences will lead to bad result.
Make sure you are constructing your sentences well. Read, revise thoroughly
before submitting.
4. Grammar:
People, who correct others, are known as "Grammar Nazis".
The grammar is like the backbone of the English language. So maintain it
properly.
5.
Capitalisation:
Capitalisation is very much important. It's not a spelling
mistake, but it is certainly an essential element while constructing your
passage.
The results will be published next week and you all will be
mailed.
Regards
Team ExamPundit
Sponsored

(adsbygoogle = window.adsbygoogle || []).push({});
Books For 2015 Banking/Insurance Exams


EP Recommends: Practicemock Free Mock Tests