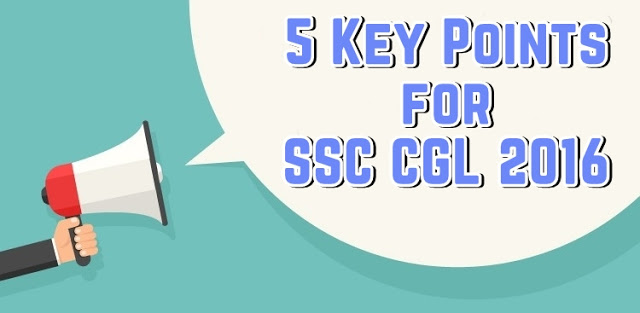 Hello and welcome to ExamPundit. So preparation for SSC is starting and many people have been
asking will EP help regarding SSC?
Yes. We will be helping in SSC as well as Railways Exam.
Now, for both the above mentioned exams, we will be
providing
Book List – For Railways its already given – Click here
Study Plan – Will be given after book list
Key Points regarding the exams – Kicking off with that
Daily/Periodically Quizzes
Discussions on SSC Topics
Today we will be talking about 5 key points for SSC CGL
2016.
1. This time its MOSTLY Online: Since this time SSC CGL will be Online mostly, people who are new, should
get accustomed to the Online method. Forget about the OMR and start solving
quizzes and problems from your laptop/desktop screens. Otherwise a large amount
of time will be vanished without even noticing.
2. Current Affairs
will be NEW: Again, since the exam will most likely to be Online. The current affairs will
be new and up-to-date. You will not have to study Current Affairs of last 1
year or 8 months. Last 3-4 Months will be more than sufficient for the exam.
3. Make GK an
Everyday Habit: Yes. GK is huge, GK may be not changing(most of it) but the
amount of materials are huge in number. Its not Bank Exam that you will study
General Awareness in the last week. And don't pay heed to who says what. People
often boast their methods without knowing yours. So, just read and study GK on
a regular basis. Find out a method, which will help you to memorize better.
You can record, write down or see images while studying
about them. Your method, you will be benefited.
4. Start From The
Basics: No matter how many tough questions you have solved in the recent
past, you MUST start SSC CGL Preparation from the BASICS. The very basics of
Arithmetic, Reasoning, English Grammar and all the topics. From Basics to
Advanced, go like this.
5. Paddle Up Your
Level: In terms of English, Quantitative Aptitude and General Awareness,
you have to increase your level gradually. The English, Maths and GK will be
tougher than usual bank exams and all. So make sure you study and prepare
yourself.
We will be rolling out a "What to Study for SSC CGL 2016"
right after the important booklist.
Till then, keep calm and study smart.
May the Force be With You.


Regards
Team ExamPundit
Sponsored

(adsbygoogle = window.adsbygoogle || []).push({});
Average rating / 5. Vote count:
EP Recommends: Oliveboard Mock Tests

EP Recommends: Practicemock Free Mock Tests