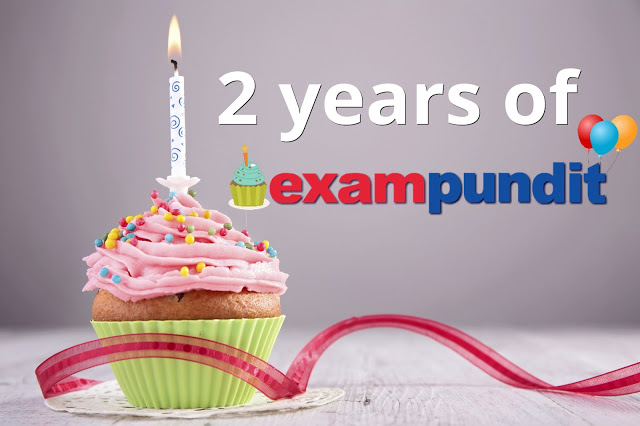 Hello and welcome to exampundit . Firstly, thank you and love you
all for suggesting, believing and being a part of exampundit.in. Now if you
have 5 minutes, please read the article, you will not regret.
Exactly 2 years ago I posted 3
articles and launched exampundit.in for all. At first, I received a lot of
criticism from random strangers. During the first 2 months, I really felt bad.
I felt like EP will never going to work out. So much of criticism, so less
faith.
There was a time when I used to
post 5-6 articles every "WEEK". There were no regular updates of anything. Not
even current affairs were regular.
However, during October, 2014 I
started posting on a regular basis even if nobody was active or commenting. The
month visitors were so less, that a kid could have easily calculated.
What was wrong? What went wrong
at first? Was I not capable?
Well, I am just a regular
graduate from Calcutta University in Bachelor of Commerce and honestly, I had
no idea about the govt exam sector till February, 2014. So when I created, I
was not fully aware or prepared to guide everyone.
I have been blogging since
2008(yes, 8 years of blogging). I had plenty of blogs/sites on cooking,
entertainment etc. But that really did not help me 1% in exampundit.
So I myself started learning
everything to help the aspirants. From reasoning to quantitative, from GA to
Computer. There were some nights when I stayed awake till 3 AM, trying to
figure out strategies which will help the aspirants.
Somehow, I started helping, I
started posting. Then came the Insurance Exams in January, 2015 when exampundit
was finally noticed by many aspirants.
That time I had to make a team to
provide proper materials and help everyone. So we started monetizing and
started to provide more and more. By the end of April, 2015, there active
members like Silent, RK, Dreamer, Sam, Megha, Dixit(yeah she is that old in
EP), Sweta, FedEx, Optimus Prime(He is old too), Sayan, Wall-E, Shree and many many
more.
Somehow exampundit.in managed to
overcome every problem. Somehow, we are still helping you and PROMISE to Help
You In the Future.
The point of this article is to
tell you, every one of you that NEVER GIVE UP. NO MATTER HOW HARD THE
CIRCUMSTANCES ARE.
I am not a so-called "teacher"
who teaches in some "center" yet have the knowledge and help you all. So why do
you want to give up after 2-3 unsuccessful exams?
You are a champ. If you have
dreamt for it. GO FOR IT. No matter who says what, no matter how many times you
have to fall down. Get Up and Get it!
Trust me, you can achieve it.
Everyone of you inspire Me to WORK MORE and HELP MORE. Because each and everyone
of you is a CHAMP. If not today, tomorrow you are going to shine!!
Regards
Anubhab!
Average rating / 5. Vote count: